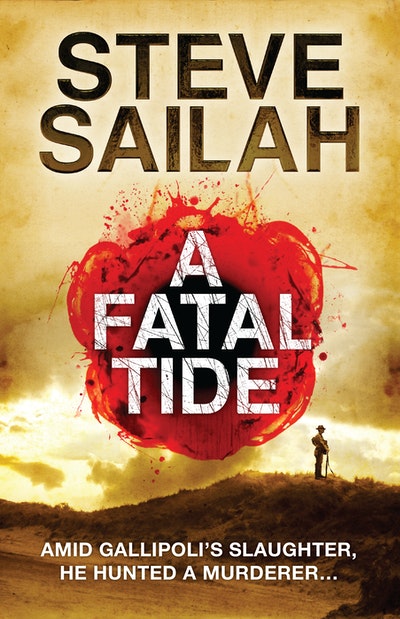 Published:

1 August 2014

ISBN:

9780857984500

Imprint:

Bantam Australia

Format:

Trade Paperback

Pages:

336

RRP:

$32.99
A Fatal Tide
---
---
---
A powerful novel set in Gallipoli, that's part war-story and part mystery. 'Amid Gallipoli's slaughter he hunted a murderer . . .'
A powerful novel set in Gallipoli, that's part war-story and part mystery. 'Amid Gallipoli's slaughter he hunted a murderer . . .'
It is 1915 and Thomas Clare rues the day he and his best friend Snow went to war to solve the murder of his father.
The only clues – a hidden wartime document and the imprint of an army boot on the victim's face – have led the pair from the safety of Queensland to the blood-soaked hills of Gallipoli.
Now not only are Thomas's enemies on every side – from the Turkish troops bearing down on the Anzac lines, to the cold-blooded killer in his own trench – but as far away as London and Berlin.
For, unbeknown to Thomas, the path to murder began thirteen years earlier in Africa with the execution of Breaker Morant - and a secret that could change the course of history . . .
Published:

1 August 2014

ISBN:

9780857984500

Imprint:

Bantam Australia

Format:

Trade Paperback

Pages:

336

RRP:

$32.99
This is a powerful novel that gives you the sights, sounds, smells, feel and horrors of Gallipoli, the courage and camaraderie, written by one who has actually interviewed many of the men who were there . I highly recommend it for readers young and old.

Peter FitzSimons
A Fatal Tide defies description, I think, simply as a historical murder mystery – although it is certainly that. It boasts other notable dimensions through its exploration of the fraught coming of age not just of its protagonists but also their infant federation; the enduring racial tensions that simmered through pre and post-colonial Australia; the capacity of otherwise good men to abandon their moral compass in war; the prosaic horrors of battlefield killing and, not least, our traditional notions of occupation and defence of country... It is an astute, complex and well-written novel that I dare to hope will set a high standard for others to follow.

Paul Daley, The Guardian
The book was a cracking read. Love the murder mystery framed by the Anzac campaign. It's an idea that I can imagine working very well for a literary audience.

Ian Collie, film and television producer
Steve Sailah's enthralling book comes at a time when the case of Lieutenant Harry Breaker Morant is receiving scrutiny by senior lawyers and community figures. The issue of Lord Kitchener's orders to shoot prisoners is buried in fact and Steve's book explores the drama and intrigue with flair and imagination!

James Unkles
It's the best book I've read.

Eric Law, teacher, Aboriginal elder and Vietnam veteran, Murgon, Queensland