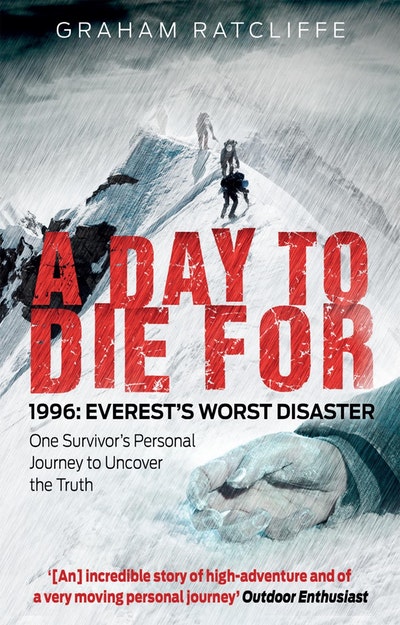 Published:

1 April 2011

ISBN:

9781907195990

Imprint:

Mainstream Digital

Format:

EBook

Pages:

352
A Day to Die For
1996: Everest's Worst Disaster - One Survivor's Personal Journey to Uncover the Truth
---
---
---
The truth about the 1996 Everest disaster by one of its survivors
Jon Krakauer's international bestseller, Into Thin Air, claimed by many as the best in its genre, left the world reeling in astonishment at the worst disaster to beset climbers on the world's highest mountain: Everest. His book sold in excess of four million copies in the US alone. The IMAX film, Everest, which grossed more than $100 million in the first 24 months, covered aspects of the 10 May disaster, becoming the highest grossing non-fiction film up to that time. Several other books were published and films were made. But was the truth told?
A Day to Die For reveals for the first time the true facts that led to the 1996 tragedy. As a first hand witness, Graham Ratcliffe spent the night of 10 May on Everest's South Col, at 26,000 ft, sheltering from the deadly storm that would claim eight lives.
This is Graham's incredible story of high adventure and of a very moving personal journey; his quest for the truth that would help him come to terms with the guilt he carried. For more than a decade he had shouldered the burden that he and his fellow teammates could have saved lives that fateful night. So startling are the author's subsequent discoveries that his revelations rewrite the worst day in Everest's long history – and reputations are left in tatters.
Seminal days of yesteryear are dotted with high profile disasters that both horrify and grab the attention of the public at large, but very rarely, if ever, can they be rewritten with such devastating effect.
Published:

1 April 2011

ISBN:

9781907195990

Imprint:

Mainstream Digital

Format:

EBook

Pages:

352
Praise for A Day to Die For
A blow-by-blow account that puts the reader at the heart of the drama (****)

News of the World
Throws a whole new light on the disaster

Weekly News
Graham Ratcliffe has experienced triumph but also tragedy . . . and for the very first time tells of his remarkable journey

Daily Express