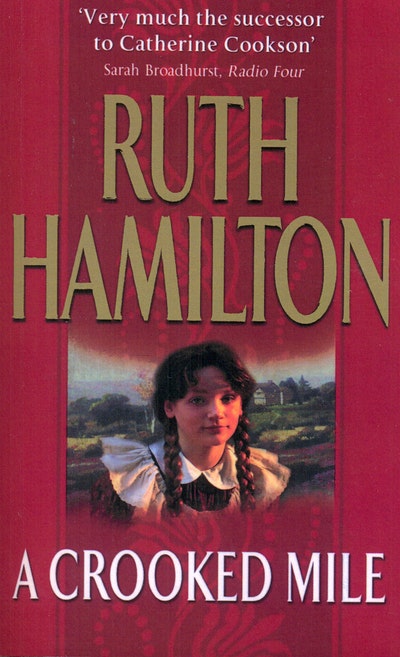 Published:

22 March 2011

ISBN:

9781446463727

Imprint:

Transworld Digital

Format:

EBook

Pages:

512
A Crooked Mile
An emotional and uplifting saga set in Bolton from bestselling author Ruth Hamilton
---
---
---
A young girl's struggle for survival.
Catherine Cookson fans will love this heart-warming saga set in Lancashire from The Sunday Times bestseller Ruth Hamilton. You won't want to put it down... "Very much the successor to Catherine Cookson. Her books are plot driven, they just rip along; laughs, weeps, love, they've got the lot, and they're quality writing as well" - Sarah Broadhurst on Radio Four. "Gritty, down-to-earth writing and strong female characters have become the trademarks of her writing" -- Bookworld"I really do not know what to say about this book, it is the most moving story I have ever read. In places it made me laugh, and in many places it made me cry. Absolutely excellent." -- ***** Reader review."Another excellent book from Ruth Hamilton. I read every night in bed and am always reluctant to switch off my Kindle as I want to know what happens next in the story." -- ***** Reader review."Ruth Hamilton has exceeded all expectations [-] another successful novel..." -- ***** Reader review. "Really enjoying this book. Can't wait to pick it up again." -- ***** Reader review. **************************SHE'LL NEED ALL HER STRENGTH TO SURVIVE...Life is tough and conditions are squalid for the residents of Myrtle Street, in the shadow of the Althorpe mills.
Joe Duffy, a Bolton tradesman, strives to lift his family out of the 'garden' streets. But as more children are born, Joe's wife Tess sinks deeper into the obsession that will be her undoing. Few people heed her ravings saying that the area is cursed. She is ignored, even as the Myrtle Street tragedies become more frequent and begin to feature in local gossip.
It is left to Megan, the third Duffy child to end the curse.
When she becomes embroiled in a web of deceit, Megan needs all her strength, talents, and wit in order to survive and ensure her family's stability and the future of the Althorpe cotton mills.
Published:

22 March 2011

ISBN:

9781446463727

Imprint:

Transworld Digital

Format:

EBook

Pages:

512
Praise for A Crooked Mile
'Gritty, down-to-earth writing and strong female characters have become the trademarks of her writing'

Bookworld