Try this free recipe from Kylie Kwong's Simple Chinese Cooking Class.
Everyone I know just loves pork crackling, and this recipe results in a great layer of crackling. To get good crackling, it's important to follow the steps here closely, especially the initial scalding of the skin, and then allowing the pork to thoroughly dry out, uncovered in the refrigerator, after it has marinated.
PORK BELLY
Serve as part of a banquet for 4
Ingredients
1 x 800 g piece free-range boneless pork belly, skin on and scored (ask your butcher to do this)
500 ml (2 cups) boiling water
1 tablespoon sesame oil
1 tablespoon salt flakes
Marinade:
2 tablespoons brown rice miso paste
1 tablespoon five-spice powder
1 tablespoon brown sugar
1 tablespoon light soy sauce
 
METHOD
Place pork belly, skin-side up, on a wire rack over the sink. Pour over boiling water to scald the pork skin – this will help the skin crisp up into crunchy crackling. Pat rind thoroughly dry with kitchen paper and place pork, uncovered, in refrigerator for 2 hours.
Remove pork from fridge and place, skin-side up, on a chopping board. Using the tip of a sharp knife, stab the pork skin repeatedly until the surface is covered with holes, being careful not to go all the way through. Turn the pork belly over and make cuts about 2 cm apart and 1 cm deep.
Combine marinade ingredients in a bowl and mix well. Rub marinade evenly over the flesh side of the pork (not the skin) and massage well into the cuts.
Place pork, skin-side up, on a wire rack (this same rack will be used for roasting the pork, so make sure it is ovenproof and fits inside a roasting tin) and place over a tray or large plate to catch any drips. Place in refrigerator and leave pork uncovered overnight, during which time the skin will dry out. The drier the skin, the better the crackling when roasted.
The next day, bring pork to room temperature and preheat oven to 150°C.
Transfer pork and wire rack to a roasting tin. Rub skin well with the sesame oil, then scatter salt all over. Roast for 1 1/2–2 hours or until tender (to test, pierce the meat with a skewer – you should meet no resistance). Increase the oven temperature to 220°C and continue roasting for 15 minutes. This final blast of heat will crisp up the skin, turning it into crackling.
Remove pork from oven and allow to rest, uncovered, in a warm place for 15 minutes.
To serve, cut into 1 cm thick slices.
---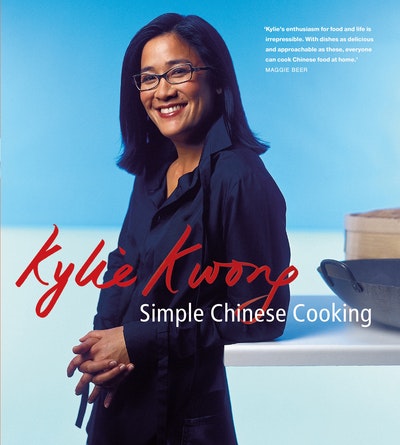 Cooking Chinese food at home has never been easier – all you need is this book, a wok and a quick trip to the supermarket.
Buy now
Buy now
---