Try this Spicy Miso Salmon with Broccoli Rice recipe from Good + Simple.
Good + Simple celebrates the pleasure of delicious food that is simple to make, a joy to share and just so happens to be good for you. Jasmine and Melissa Hemsley's principles of healthy home cooking built around gut health, whole foods and affordable ingredients show how tasty and achievable eating well can be.
Here's one of our favourite recipes from Good + Simple.
SPICY MISO SALMON WITH BROCCOLI RICE
Serves 2
Ingredients
2 teaspoons coconut oil
2 x 300g wild salmon fillets (skin on)
Sea salt and black pepper
For the broccoli rice:
1 large head of broccoli (about 350g)
2 tablespoons of water
2 spring onions, finely sliced, or 1 tablespoon snipped fresh chives
For the spicy miso sauce:
1 tablespoons unpasteurised miso paste (to taste)
2 teaspoons maple syrup
4 tablespoons hot water
1 tablespoon lemon juice
A pinch of chilli powder or cayenne pepper
A pinch of sea salt or dash of tamari, to taste
 
METHOD
For the broccoli rice, grate the broccoli – including the stalk – into rice-sized pieces, either by hand (using the coarse side of a grater) or in a food processor (using the S-curved blade or grater attachment). Set aside.
Melt the coconut oil in a wide frying pan on a medium heat, season the salmon with salt and pepper, then fry, skin side down, for 3 minutes until crispy. Carefully turn over and fry the flesh side for 1–2 minutes until just cooked through. Transfer from the pan onto individual warmed plates and keep warm.
Tip the grated broccoli straight into the same pan with the water, turn up the heat, cover with a lid and leave to steam for 3 minutes, stirring halfway through, until tender but still with a little bite. Season to taste with salt and pepper and then add the spring onions or chives.
While the broccoli rice is cooking, stir or whisk the miso sauce ingredients together in a bowl, or shake in a jam jar with the lid on. Divide the broccoli rice between the plates, pour the sauce over the fish and serve immediately.
---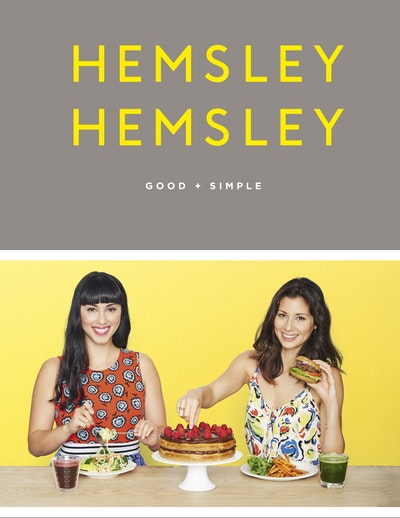 Good + Simple
Jasmine Hemsley, Melissa Hemsley
Look and feel your very best with Hemsley + Hemsley's inventive, nutritious recipes that are simple to make and always good for you.
Buy now
Buy now
---