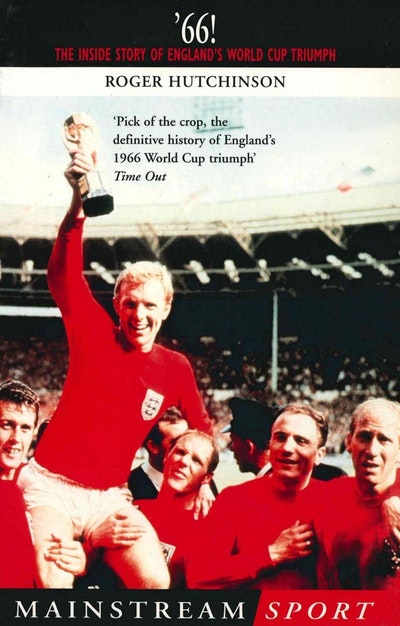 Published:

23 September 2011

ISBN:

9781780573229

Imprint:

Mainstream Digital

Format:

EBook

Pages:

224
'66
The Inside Story of England's 1966 World Cup Triumph
---
---
'Book of the Month . . . If you only read one book about the 1966 World Cup, make sure it's this one' - FourFourTwo
'. . . it is now!' With these legendary three words the 1966 World Cup final came to an end. England had won, and at 5.15 p.m. on 30 July 1966, Bobby Moore wiped his hands on his shorts, shook hands with the Queen, and took delivery of the Jules Rimet trophy before a worldwide television audience of 600 million.
It was, and remains, the single greatest British sporting achievement. Alf Ramsey had taken a national team whose fortunes and confidence were at their lowest ebb, and made them World Champions. In doing so he was accused of changing the face of soccer, of turning a 'noble game' into a sport which was dominated by fitness, defences and the training park. Ramsey's 'wingless wonders', it was said, 'put football back 100 years.'
How far did he and his squad set out to win sport's greatest trophy by any means possible, and how much did accident and circumstance dictate their victory? How good were Ramsey's England?
Award-winning sportswriter and historian Roger Hutchinson tells a story which sparkles with wit and with sporting brilliance.
'66 is the story of the greatest sporting tournament ever to take place in Britain, one that marked the birth of the modern game. It is the story of a sporting adventure which, far from putting football back 100 years, catapulted it unwillingly into the future. It is a tragedy told with a smile on its face. It is a tale that no sports fan will want to miss.
Published:

23 September 2011

ISBN:

9781780573229

Imprint:

Mainstream Digital

Format:

EBook

Pages:

224
Pick of the crop, the definitive history of England's 1966 World Cup triumph

Time Out