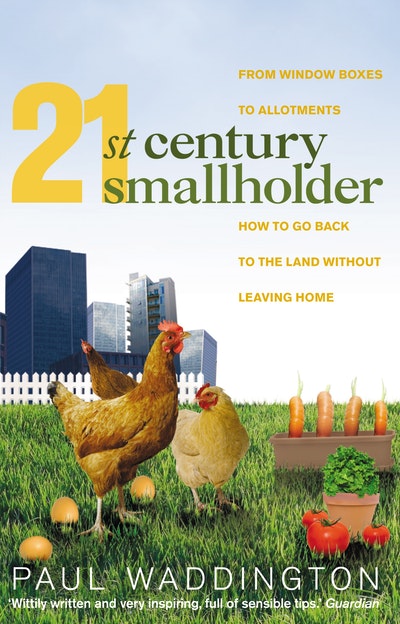 Published:

1 September 2010

ISBN:

9781409082958

Imprint:

Transworld Digital

Format:

EBook

Pages:

224
21st-Century Smallholder
From Window Boxes To Allotments: How To Go Back To The Land Without Leaving Home
---
---
---
For anyone wanting to find 'the good life' in their garden, allotment or even a window box - a practical, accessible and stylish guide to growing food and living sustainably.
Achieving genuine self-sufficiency of the kind described in John Seymour's classic guide is sadly beyond the vast reach of the urban majority today. Few have the space, and for those few there are comprehensive guidebooks. But where do the rest of us look for the answers to questions like how much effort does it really take to grow your own food? Is beekeeping difficult? Is solar power really worth the bother?
From a small terraced house in the middle of a big city, Paul Waddington has made it his business to find out, and while trying it himself, has created a practical and absorbing guidebook along the way. It includes easy-to-read lists, tables, personal anecdote, and stunning illustrations, and more importantly demystifies the subject with practical tips that get to the heart of the matter to show you how you can enjoy the fulfilling aspects of the smallholding life without the hassle and expense of 'going all the way'. If you want to go back to the land without leaving home, this is the perfect guide.
Published:

1 September 2010

ISBN:

9781409082958

Imprint:

Transworld Digital

Format:

EBook

Pages:

224
Praise for 21st-Century Smallholder
Wittily written and very inspiring, full of sensible tips on everything from windowboxes to pickling your produce. It's a 21st-century version of John Seymour's Complete Book of Self-Sufficiency ...

Josh Lacey, Guardian, Gardening section
...a charmingly written, practical guide to setting up an urban smallholding, allowing readers to indulge Good Life fantasies, however small their balcony or window box.

The Times
A handbook packed full of green advice...Aesthetically pleasant guides to growing and raising your own food accompany serious food for thought on how you can, and why you should make a difference.

Tom Ireland, The Ecologist
Beautifully written and illustrated, the 21st Century Smallholder is the bible for today's Tom and Barbara Good and anyone else who wants to live the dream.

Rachel Savage, The Environment Magazine
If you have space for just a window-box, 21st Century Smallholder is for you. Subtitled "How to Go Back to the Land Without Leaving Home", it offers exactly what it says on the cover.

Edi Smockum, FT magazine
Packed with tips and easy to use, 21st Century Smallholder...will inspire you, whether you've a window box or an allotment.

Country Living
Paul's books will inspire even the most reluctant urban gardener.

Darina Allen, Irish Examiner
Packed with ideas, it's a book we should all read, and if we each follow just a fraction of Mr Waddington's advice, we'll be doing something positive to protect the environment.

Nottingham Evening Post
This is a terrific book for anyone who has toyed with any aspect of going back to the land...He is endlessly positive, but realistic too.

Kent on Sunday