A gripping historical fiction to read with your book club.
The Crimson Thread is a gripping historical fiction that tells the story of a young woman in Crete during World War II. Caught between the brutal Nazi occupation of the island and her attempts to save two Australian soldiers, she must choose whom to trust, whom to love, and in the end, whom to save.
Discussion points and questions: 
The Greek resistance to German occupation during the Second World War was long and fierce, and the reprisals for those mounting resistance were among the most cruel. Did you know much about the battles fought in Greece, and particularly Crete?
Love triangles exist in life and fiction. In times of war and trauma, emotions run high. How much do you believe the behavior of all three of our heroes; Jack, Teddy and Alenka, was affected by the ongoing battles around them?
It is not only the German occupying forces who were capable of doing terrible things in The Crimson Thread. Other characters show they too are capable of being monstrous. Did you find this aspect of the novel to be surprising?
Are Axel and Teddy a product of the behavior of their fathers, or are other factors at play? 
The title of the novel, The Crimson Thread, comes from the Minotaur in the Labyrinth myth. Were you familiar with this story, and were you aware it was based in Crete? 
Who is the true minotaur at the heart of the book?
The myth is usually retold with the Greek hero Theseus at the centre of the tale. Kate Forsyth draws upon older, matriarchal versions in which the Cretan princess Ariadne is the protagonist. The Crimson Thread sits within a genre of ensuring the female voices in these ancient stories are heard. How do you feel about myths being reframed?
Alenka embroiders secret messages in code and so manages to smuggle out crucial information to the Allies. Jack, too, learns to write messages in needle and thread. Kate Forsyth learnt how to embroider so that she could properly describe this ancient art, and now loves it so much she embroiders every day. Why do you think embroidery and other traditional women's arts such as weaving and quilt-making are considered crafts, while men's creative occupations are more likely to be considered art? 
Suggestions for book club activities: 
Eat
Eat a Greek feast of hummus, tzatziki and taramasalata served with warmed pita bread, dolmades (stuffed vine leaves), feta cheese, olives, grilled octopus, roast lamb with rosemary and lemon, and spanakopita (cheese and spinach pies), served with a shot glass of tsikoudia, a delicious traditional pomace brandy served everywhere (and at all times of the day) in Crete.
Listen
Listen to Kate's playlist of Bach cello music and Cretan lyra music on Spotify . 
Read
In addition to The Crimson Thread, also check out The King Must Die by Mary Renault and Captain Corelli's Mandolin by Louis de Bernieres.
Haven't read it yet? Sneak a peek at an extract. 
---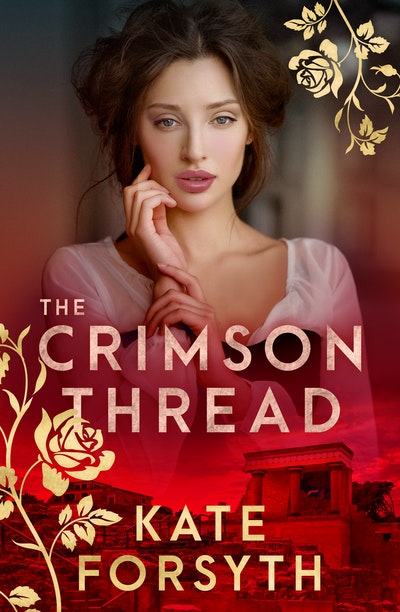 Set in Crete during World War II, Alenka, a young woman who fights with the resistance against the brutal Nazi occupation finds herself caught between her traitor of a brother and the man she loves, an undercover agent working for the Allies.
Buy now
Buy now
---