Public radio co-hosts navigate mixed signals in Rachel Lynn Solomon's sparkling romantic comedy debut.
Shay Goldstein has been a producer at a public radio station for nearly a decade, but she has started clashing with her newest colleague, Dominic Yun. 
When the struggling station needs a new concept, Shay proposes a show that her boss green-lights with excitement. On The Ex Talk, two exes will deliver relationship advice live on-air. Their boss decides Shay and Dominic are the perfect co-hosts given how much they already despise each other. 
Neither like the idea of lying to their listeners but the audience quickly gets invested and The Ex Talk becomes a must-listen and climbs podcast charts.
Things take a complicated turn when Shay and Dominic start to fall for each other. In an industry that values truth, could getting caught mean the end of more than just their careers? A perfect book to discuss with your book club.
Discussion points and questions:
At the beginning of the book, Shay's animosity toward Dominic centres on her feeling overshadowed by him at work. Is this something you've experienced? How did you handle it?
If you started this book with prior knowledge of public radio and podcasting, how did it change upon finishing? If those worlds were new to you, what did you find the most interesting? What were you most surprised by?
Shay and Dominic set aside their journalistic integrity to lie on the air, though they're a bit forced into it by their boss. Was the show worth temporarily sacrificing their journalistic ethics, and do you feel they adequately come to terms with this by the end of the book?
If you could read the book from Dominic's point of view, what do you think his character arc would be?
In many romance novels with M/F pairings, the male character is often the one who is more sexually experienced, taking the alpha role in the bedroom. What did you think of the reversal of that dynamic in this book? Did this match up with your expectations of Dominic's character? Why or why not?
Do you think Shay and Dominic would have begun a relationship if not for The Ex Talk? Did it jump-start their relationship in a positive way, or was it more of a roadblock they needed to overcome?
Shay's father passed away when she was in high school, but she's still living with her grief. Do you think working in public radio helped or hindered her in terms of processing that grief?
Kent, Shay's boss, is an example of the quiet ways misogyny goes undetected in the workplace. Why do you think he was able to get away with it for so long?
Shay and Dominic often joke about their poor adulting skills. By the end of the book, in what ways would they find themselves successful? How has that definition of success changed over time?
What do you think the future holds for Shay's and Dominic's careers?
---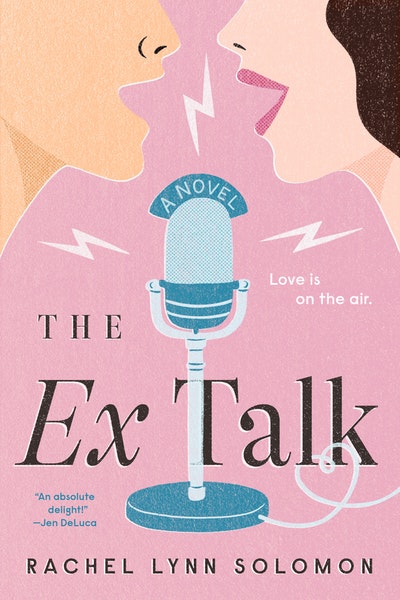 Public radio co-hosts navigate mixed signals in Rachel Lynn Solomon's adult, romantic comedy debut.
Buy now
Buy now
---