Learn about the benefits of board books and see two of our favourite board books of 2023.
Any parent of a toddler will be familiar with board books. But aside from being a great intro to books, the benefits of board books go beyond reading to help establish many basic skills for your little one.
These durable, hard-paged, picture books are also great for encouraging development on several levels.
4 benefits of board books
1. They facilitate parent-child bonding
Board books are great for encouraging bonding between a parent and a young child. While many toddlers might be able to pick up and turn the pages themselves, they often look to an adult for help. Even if your toddler doesn't seem interested in the story, reading aloud can soothe them. Reading together from a young age is a great way to help associate books with positive feelings and instil a lifelong love of reading in your child from an early age.
2. They establish recognition of shapes and sounds
Reading board books out loud can also help your toddler with their recognition skills. Reading the same board books multiple times can teach kids to differentiate between shapes and sounds, helping to establish the foundations for language learning.
3. They help toddlers build mental connections
Oftentimes board books have simple, repetitive storylines. Such repetition can help with pattern recognition and basic comprehension. Depending on their age, your toddler might not understand the full extent of the story, but the rhythm and speech alone are enough to help with basic cognitive skills.
4. They aid in the development of fine motor skills
The basic act of turning pages is great in helping young children develop fine motor skills. Separating and flipping pages helps toddlers learn the mechanics of different objects, in addition to new muscular movements. Best of all, you can rest easy knowing that a board book's thick pages can endure the sometimes less-than-gentle handling by little hands.
Our board book picks
Our current favourite board books for toddlers are I Can be a Matilda and I Can be a Socceroo. In the lead-up to the 2023 FIFA Women's World Cup™ hosted by Australia and New Zealand, these books introduce young readers to the concept of soccer and sports terminology.
With simple text and adorable illustrations, these official Football Australia licensed books are the perfect way for football-loving parents to introduce children to the sport.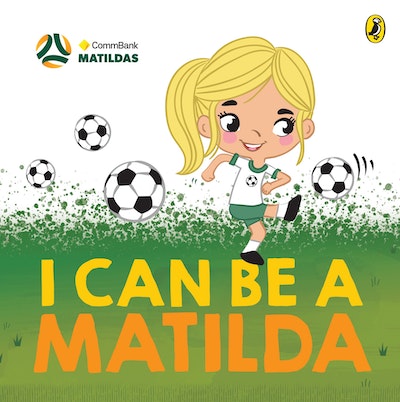 I Can Be a Matilda
I love playing football and when I grow up I want to be a Matilda! Cheer on the Matildas in the FIFA Women's World Cup Australia & New Zealand 2023™
Read more