Hugh van Cuylenburg was being interviewed on a national radio station when he surprised himself with an admission.
'Utterly broken.'
They are two words you wouldn't expect to hear from the author of The Resilience Project, a book that focuses on mindfulness and mental health and has become somewhat of a survival guide during the Covid pandemic.
But Hugh van Cuylenburg found himself admitting he too was struggling.
Hugh was being interviewed on a national radio station about three months ago when he surprised himself as he admitted to his own battles as a result of ongoing lockdowns. 
'When asked how I was I just said I was totally and utterly broken,' he said.
'I felt pressure to be OK because I was The Resilience Project guy.
'I went back inside after the interview and I thought, "I need to change something here". I was really struggling so I made the decision to accept what is happening and surrender to it.
'I was fighting it so desperately but the second I accepted the world had changed and surrendered to the pandemic, life became so much easier.'
After accepting his current situation, Hugh says he hasn't had a bad day since. 
'I don't think we understand the power of acceptance,' he said.
Hugh's first book, The Resilience Project: Finding Happiness through Gratitude, Empathy and Mindfulness, has become a national bestseller that is helping people throughout the country appreciate the small things in a life gripped by the Covid pandemic.
'The book provides practical evidence-based strategies to help you to feel happier to improve your mental health and cope better in a challenging time,' he said.
'The pandemic has really taught us a lesson we should have learnt a long time ago — a lesson in gratitude.
'As human beings living in a privileged country like Australia, we become so focused on the things we don't have and become so distracted by needing a nicer house, a bigger car or a pay rise.
'But we're surrounded by amazing things every single day — there's beauty and joy that we're not paying attention to because we're too busy focusing on stuff we don't have.'
Appreciating the little things
Hugh said The Resilience Project provides strategies for people to stop and enjoy the simple things.
'I have people tell me now they look forward to smelling their coffee, or a phone call with a friend," he said.
'It's moments with your kids, getting sun on your face, things people weren't really paying attention to a year and a half ago.
'We wanted to be wowed by things to make us happy — incredible events, having the perfect meal in the perfect setting — but life is not perfect and this pandemic has forced us to embrace imperfection and focus on what the pandemic can't take away from us.'
The Resilience Project strategy urges people to write down three things that went well for them each day, or sit down and pen a letter to someone who has had a big impact on them.
Hugh says the positive feelings of telling somebody you're grateful for them can last for a month.
As the pandemic rages on in a country divided by border closures and differing opinions on masks and vaccines, Hugh hopes the country will be reunited at the end of it, knowing as a nation we got through it together.
---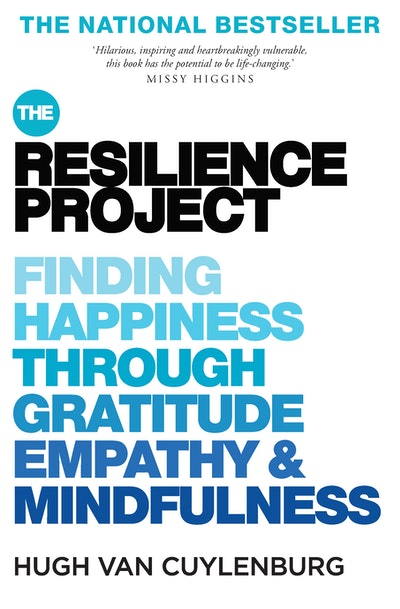 The key steps to leading a happier, more contented and fulfilling life
Buy now
Buy now
---