The Emporium of Imagination author on the power of magical realism.
Magical realism is a genre of writing which oozes magic whilst still being set in the world in which we all live. There are always otherworldly twists in the narratives that I find delightful and full of opportunity to express greater truths about what it means to be human.
I have been inspired by the classics in this genre and continue to use them as springboards into my own imagination.
Like Water for Chocolate by Laura Esqivel is gloriously baked with magical realism. The novel centres on the love of Tita and Pedro. As the youngest daughter, Tita is forbidden to marry and must instead take care of her mother. To remain close to Tita, Pedro marries her older sister and both their lives are irreparably changed.
Tita spends her days in the kitchen and her deep emotions are baked into the food she prepares with often disastrous consequences. The tears she cries into the batter of a wedding cake make guests who take a bite weep. It is a story of loss and grief and the magic of emotions.
What drew me to the story was the way in which inanimate objects, in this case food, are so powerful in connecting people to their emotions.
In The Emporium of Imagination, I was intrigued by this concept and wondered how vintage items in an extraordinary shop might be used to link characters to their past, to things or people lost and to their own emotions. It also set the stage for me to explore what might happen if The Emporium also housed unusual phones that gave characters the chance for one last phone call with lost loved ones.
The gift of magical realism is that it allows the opportunity to spotlight a part of the human experience in a way that shines a completely different light on reality. Fantasy is woven into everyday life and characters have extraordinary opportunities to imagine 'what if' and use their imaginations to heal or explore difficult issues. In this way, readers are invited to experience issues like grief and loss through the safe lens of magic. I'm also obsessed with how magic might connect us as humans.
In If On A Winter's Night A Traveller by Italo Calvino the reader becomes a character. We are the protagonist, who, after reading the first incomplete story in the book, decides to exchange it at a bookshop. This replacement copy seems to be a completely different book and the reader is now a character in the story who goes in search of that original narrative, only to read many new stories.
I was inspired by the use of the readers as characters and wondered how my own work might enable readers to more intimately be a part of the story. In The Emporium of Imagination, I introduce the Owner's Guide to Grieving, which is a magical book where the townsfolk of Boonah may write about their own grief and are invited to connect with other people's loss as well as their own.
I use the invitation in the back of The Emporium to invite readers to write their own entry. To become a character and imagine that The Owner's Guide to Grieving had turned up at their own door. Of course the fantastical isn't reality but readers have the opportunity to consider how the magic itself is used to convey the truth of the human existence.
The impossible becomes possible in my books, but I also subtly ask readers how far from real life that is. Are we not using our imaginations when we plan our futures or dream our desires into being? Where then is the line between possible and impossible?
I am a big believer in bravely seeking magic and offer readers the chance to find magic inside ordinary moments in the hope for better tomorrows. For me, that is the power of magical realism and what inspires me to continue both reading and writing it.
---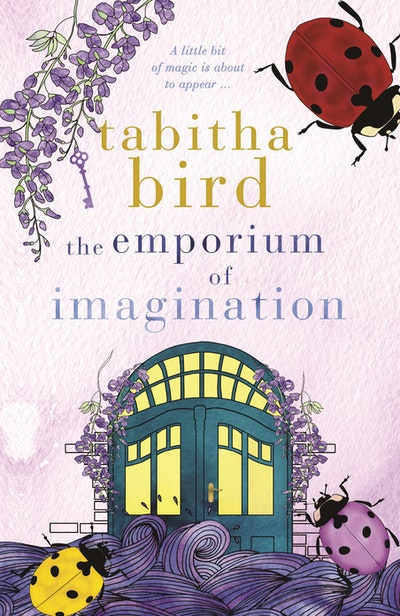 A captivating novel of magical realism about a fantastical shop that brings comfort, peace and hope to those in need. You won't want to miss the opening of this shop!
Buy now
Buy now
---