At Paul Bangay's beloved Stonefields, spring is a time of floral aroma.
A distinctive sign of early spring at Stonefields is the flowering of the crab apple trees. The main variety is Malus floribunda, which present in tight bud as a haze of deep pink, fading to a very pale pink as they fully open. I have planted these small trees in copses of three and five at each corner of the main garden. That number of trees is just enough to create interest, but not too many to become crowded or obscure the main garden from the outer park. The planting also helps soften the sharp corners of the formal hedged layout and allows it to merge into the natural contours of the outer park. In October, the effect is spectacular – the entire park becomes a haze of pink blossom which, if we are lucky, lasts into early November.
Blue painted beehives under the Malus floribunda trees.
Walking around the garden at this time of year, you can really identify certain perfumes, and crab apple is the most recognisable. As there are so many of the trees, and the fragrance is so intoxicating, the entire garden is bathed in it. It's neither sweet nor pungent, but rather distinctive, and is definitely the scent of spring. It's a fragrance I'll never forget, and one that will always be identified in my mind with Stonefields at this time of the year.
Other crab apples I've planted include Malus sargentii in the white garden, and Malus trilobata in the blue borders, which has a wonderful conical growth habit and spectacular autumn foliage. The Malus sargentii blossom is pure white, but only lasts for a few short weeks, after which it falls to the ground like a carpet of confetti. I bought the four Malus sargentii specimens, which sit in a cushion of box hedging in each corner of the white garden, as high grafts. They have been grafted onto tall clear stem root stock at approximately 1700 millimetres high, thus allowing people to easily walk under them.
I find crab apples are one of the toughest small blossom trees; none of ours receive watering over summer, and they still seem to thrive. Having said that, though, the blue borders each had a Malus x atrosanguinea 'Gorgeous' in the centre of their beds, but these were a bit hit and miss. If we had a dry spring, they did well, but if we were lucky enough to have a wet one, they were prone to mildew, and this badly affected their flowering. I decided to remove them, and this had the bonus of providing more sun and less competition to the perennials planted beneath. It's always a hard decision to remove trees, especially if you planted them and nurtured them, but I believe it pays to be ruthless in the garden. If there's a great benefit to removing a tree, I don't hesitate.
---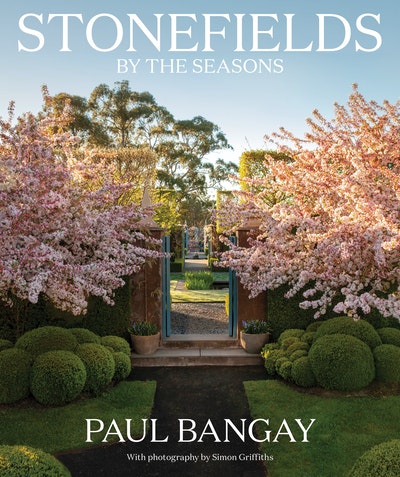 'To live a life led by the seasons is to live one closely tied to a garden, and Stonefields is mine.'
Buy now
Buy now
---