In July we explored racism, identity, education and love in James Baldwin's searing essay collection Dark Days.
Each little book in the Penguin Modern series offers a concentrated hit of its author's work. In the case of novelist, essayist, playwright, poet, human-rights campaigner and social critic James Baldwin, this 'concentrated hit' amounts to a seismic shock. Across three essays – 'Dark Days', 'The Price of the Ticket' and 'The White Man's Guilt' – he delivers an illuminating, seething denouncement of the inherent racism built into the machinations of US society.
Drawing on his own experiences of prejudice in an America violently divided by race, Baldwin blends the intensely personal with the political to envisage a better world. He pulls no punches, illustrating that to get anywhere even close to a colour-blind world will take education, will, courage, and some of the toughest conversations imaginable.
'On the first day of class last winter at Bowling Green State University, where I was a visiting writer-in-residence, one of my white students, in a racially mixed class, asked me, "Why does the white hate the nigger?", he writes in 'Dark Days'. 'I was caught off guard. I simply had not had the courage to open the subject right away. I underestimated the children, and I am afraid that most of the middle-aged do. The subject, I confess, frightened me, and it would have never have occurred to me to throw it at them so nakedly.'
Confronting, provocative and sadly – after many decades – still timely, these three essays are powerful reminders that complacency is akin to complicity. To celebrate James Baldwin's breathtaking lyricism and profound wisdom, here we've collected a handful of memorable quotes from this tiny book full of monumental truths.
On education:
'I was an exceedingly shy, withdrawn, and uneasy student. Yet my teachers somehow made me believe that I could learn. And when I could scarcely see for myself any future at all, my teachers told me that the future was mine. The question of color was but another detail, somewhere between six feet tall and six feet under. In the long meantime, everything was up to me.'
'It is an absolute wonder and an overwhelming witness to the power of the human spirit that any black person in this country has managed to become, in any way whatever, educated. The miracle is that some have stepped out of the rags of the Republic's definitions to assume the great burden and glory of their humanity and of their responsibility for one another… It is an extraordinary achievement to be trapped in the dungeon of color and to dare to shake down its walls and to step out of it, leaving the jailhouse keeper in the rubble.'
On inequality:
'If I can say that my best friend, black, Eugene, who took his own life at the age of twenty-four, had been, until that moment, a survivor, I will be told that he had "personal" problems. Indeed he did, and one of them was trying to find a job, or a place to live, in New York.'
On history:
'White man, hear me! History, as nearly no one seems to know, is not merely something to be read. And it does not refer merely, or even principally, to the past. On the contrary, the great force of history comes from the fact that we carry it within us, are unconsciously controlled by it in many ways, and history is literally present in all that we do. It could scarcely be otherwise, since it is to history that we owe our frames of reference, our identities, and our aspirations. And it is with great pain and terror that one begins to realize this. In great pain and terror one begins to assess the history which has placed one where one is, and formed one's point of view.'
On uprising:
'The romance of treason never occurred to us for the brutally simple reason that you can't betray a country you don't have. (Think about it.) Treason draws its energy from the conscious, deliberate betrayal of a trust – as we were not trusted, we could not betray. And we did not wish to be traitors. We wished to be citizens.'
---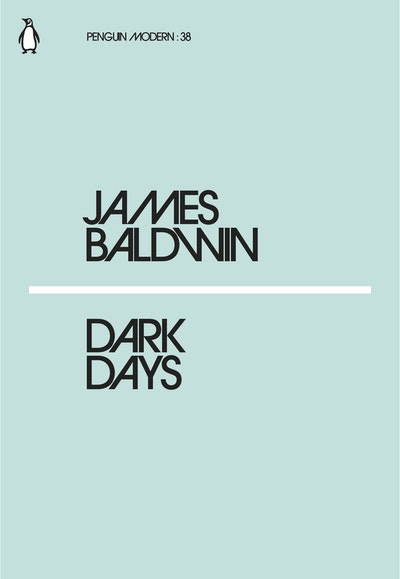 Fifty new books, celebrating the pioneering spirit of the Penguin Modern Classics series, from inspiring essays to groundbreaking fiction and poetry.
Buy now
Buy now
---