Taryn Brumfitt, the founder of the Body Image Movement, has released Embrace Your Body, a picture book for kids that celebrates positive body image values. Discover why this is so important right now plus learn five tips that will help YOU help the kids in your life. 
Hey! I'm Taryn Brumfitt and I'm delighted to introduce you to my new book – Embrace Your Body! So why a children's picture book? Well…
28,000 days on the planet, that's how many we've got – if we're lucky! And if it doesn't sound like a lot of time, that's because it's not! I don't know about you, but it only feels like last night I was dancing at the nightclub, 20 years young and not a care in the world, and then I blinked and BAM – 42 years old, 3 kids, mortgage, bills, life . . . Gah – responsibilities! I sometimes even find myself on sunny days, looking at the blue skies contemplating what a great day it is to get the washing on the line – who even am I? Do you relate?
Yes, time moves fast and we mustn't waste a minute, life is precious and so are our bodies. When I learned that body image was the number one concern for Australian children, I was in equal parts angry and outraged, sad and heartbroken. We weren't born into the world hating our bodies, this was a learned behaviour, something needed to be done and there's no better way to embed some positivity into the hearts of little ones, than in a book.
Embrace Your Body focusses on themes like gratitude for what our bodies can do, acceptance of self with an overarching celebration that everybody is unique and different. Regardless of size, shape, colour or ability, we are ALL worthy and I want children to understand and appreciate that diversity is beautiful, and kindness is king.
This is more than just a book, it is an opportunity for parents, grandparents, carers and teachers to create a space to hold important conversations to help children build a foundation of positive body image values. We need to help children focus on what their bodies can do and how they feel, as opposed to what they look like. After all, our bodies are not an ornament, they are the vehicles to our dreams! 
So how did this book come to be? The book is based on the song 'Embrace' that I created with children's entertainment duo Pevan and Sarah. If you had told me a few years ago that I'd release a song that would knock Baby Shark off the #1 spot (you can Thank me later) I would have said you were crazy! Don't get me wrong, I love to bash out a karaoke song and singing in the shower is my speciality but really a #1 hit on iTunes? Mind-blowing! But that's the kind of magic that happens when you surround yourself with talented and, most importantly, kind and caring people who are here to do good in the world. That's Pevan and Sarah, their work is important, and I can highly recommend you check it out.
I'm so excited to spread the message of this book far and wide and I hope you'll join me in the mission to get it out far and wide to millions of children across Australia. No child should hate their body, full stop. Let's be part of the solution, spread some kindness, inspire through action, and… let's just embrace. After all, most of us have used up one half of our 28 thousand days, the time is NOW!
With love
Taryn Brumfitt
P.S. Can I take this opportunity to hail illustrator Sinead Hanley for the exquisite characters in the book, I'm forever grateful to work with such talent.
Five tips to help the kids in your life
My colleague Dr Zali Yager, Associate Professor in Health and Physical Education, Victoria University, and I sat down and put together some tips to help you, help the kids in your life.
Role model body positivity by voicing your appreciation for what your body can do
Limit negative discussion about bodies in terms of weight and appearance – your own and other people's
Celebrate diversity of different body shapes, sizes and colours
Give praise that is related to function and effort over appearance and achievement
Engage in fun movement and eating healthy foods because you enjoy them, not because 'we have to'
---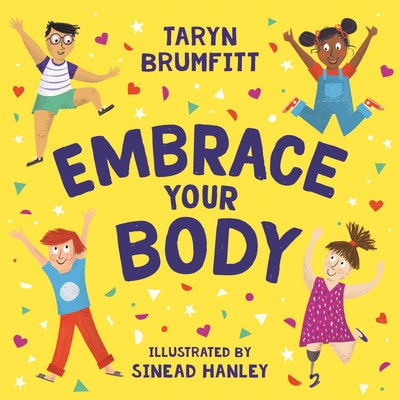 Embrace your body – you've only got one!
Buy now
Buy now
---