How the discovery of a box of love letters inspired Lisa Ireland to write The Secret Life of Shirley Sullivan.
Two years ago, I was writing a book about a woman battling grief. To be honest, I was struggling with it. The words just weren't flowing and each day I went to the page with an increasing sense of trepidation.
Around the same time, my house was hit by a huge storm and the whole ground floor was flooded. In the ensuing clean up I discovered a box of memorabilia from my parents' home that I'd stored away without opening after my mother's death. The box was water damaged, so I opened it to check the condition of its contents. I was blown away by what I found.
Inside was a collection of letters that my parents had written to each other during the beginning of their relationship in 1961. I spent some time putting the letters in chronological order and then read the lot in one sitting. It was compelling reading and not just because of the love story unfolding on the pages. The letters were written in the language of the time and filled with references to popular music and culture, and events that now have historical significance. In one letter my mother describes crying at the footage of President Kennedy's funeral.
Almost a decade before I found these letters, I'd read a newspaper article about a couple in their early eighties who escaped from their nursing home and went on the run for days. At one point they were caught and questioned by police but managed to give their captors the slip and continue their journey. I was captivated by the story of this daring duo and wondered if they simply wanted their freedom or if there was somewhere in particular they were running to.
Over the years their story kept ticking over in the back of my mind. I thought a lot about how they managed to evade the authorities for so long and wondered about their backstory. Had they been childhood sweethearts? How long had they been married? Did they have children? Why had they ended up in a nursing home?
When I found my parents' letters all the pieces came together for me. I realised I could use the letters as the inspiration for the backstory for my elderly runaways. Once I started to write, the characters of Frank and Shirley spoke strongly to me. The details of their chance meeting were borrowed from my parents' story, but they very much became their own people on the page.
The novel has a dual timeline: the present day, where Frank and Shirley are on the run; and the past, beginning from the time they met in 1961.
Young Frank is a man of his time. He loves and values his family above all else, and very much sees himself in the role of provider and protector. He's a good man, with the best of intentions, but very much beholden to societal norms. This made him quite an easy character to write. It wasn't hard to determine how Frank would think or react in any given situation.
Shirley is a more complex character. She starts out life as 'the girl next door', wanting nothing more than to fit in, please her parents and to do what is expected of her. When we first meet Shirley, her greatest desire is to be married with children and she's actively formulating a plan to make this happen. After Frank proposes to her, Shirley is convinced that her life is progressing just as it should, but over time she comes to question whether her dream of marriage and motherhood was legitimate.
Certain parts of her character emerged as I wrote, qualities that surprised even me. Her secrets were tightly held – at times even from herself. I didn't start the novel knowing what these secrets were, so it was exciting for me to uncover them as the novel progressed. I did a lot of research about the everyday lives of Australian women in the 1960s and 70s, which definitely had an influence on the development of Shirley's character. It was a time of great societal change. Women were demanding and gaining greater freedoms, but there was also push back against this. Many women, including Shirley, found themselves conflicted and unsure of their place in this new world. This made young Shirley an interesting, but challenging character to write.
Present-day Frank has Alzheimer's disease. He's often very confused and spends much of his time reliving the past. I did a lot of research to assist me with writing Frank at this stage of his life, because it was important to me that his character would ring true to people living with dementia and their carers. My own grandfather had Alzheimer's and often it was his voice I heard when Frank was speaking.
Galvanised by her situation, present-day Shirley is smart, decisive and strong. She was a dream to write because once she finds the courage to be true to herself, she's unstoppable. One of the key themes I set out to explore in this novel was the invisibility of older women in society. Shirley uses her 'little old lady' persona to her advantage when she kidnaps Frank. She delights in outsmarting those seeking to find her, especially when it is obvious that her abilities to navigate the modern world have been underestimated. I have to say of all the many characters I've written over the years, 79-year-old Shirley Sullivan is my absolute favourite!
At its heart, The Secret Life of Shirley Sullivan is a story about love and family. I'm indebted to my family for sowing the seeds that helped grow a fledging idea into a fully formed novel.
---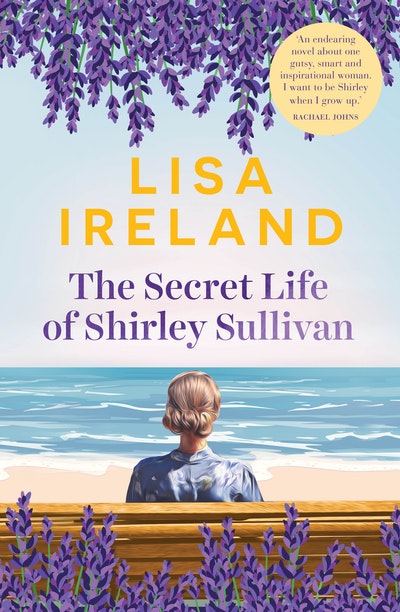 The Secret Life of Shirley Sullivan is a charming, nostalgic and heartwarming story for women of any age – and it all begins when 79-year-old Shirley kidnaps her husband from his nursing home for one final adventure . . .
Buy now
Buy now
---