The truth behind a handful of Captain Cook's more colourfully described landmarks.
It's a maritime adventurer's lot: the naming of 'newly discovered' places and things. As captain of the globe-conquering Endeavour, James Cook was responsible for an inordinate number of placenames. After all, during his time at the Endeavour's helm, he circumnavigated the earth – following the most difficult route ever attempted – and in doing so took time to map New Zealand and a vast area of Australia's east coast.
In Geoffrey Blainey's book Captain Cook's Epic Voyage, the Australian historian tracks the Endeavour's monumental quest to find a yet-discovered continent. Drawing insights from the journals of Cook, and naturalist Joseph Banks, Blainey takes readers on a vivid journey, revealing the hardships, adventure and achievements of this map-altering voyage. As we travel, Blainey sheds light on many of the names appointed to geographical features by Cook and his crew.
'Naming is an ever-present task of a maritime discoverer,' writes Blainey. 'Names had to be given not only to coastal peaks but also to prominent headlands and bays. Bateman's Bay was named after the master of a ship in which Cook had served in Canada. Near what is now the town of Ulladulla, Cook noticed a peak that resembled the top of an English dovecote or pigeon house, and he christened it the Pigeon House Hill. A little to the north stood Jervis Bay, named after an English naval hero, though Cook himself did not name it. And a procession of more obvious names was assembled: Red Point, Red Cliff, Long Nose and Hat Hill, which is the present Mount Kembla.'
From Booby Island to Young Nick's Head, here we take a mini-tour of several of Cook and his crew's more flamboyantly titled landmarks and seamarks.
Booby Island (Torres Strait)
Get your mind out of the gutter, this island takes its English name from boobies of the feathered kind.
'This flat-topped island, from which Cook was to look optimistically towards the open sea, deserves a dramatic name. Instead it is simply called Booby Island. The telltale signs of these brown birds with their yellow bill and white under-wing were everywhere. From the ship the steep cliffs seemed strangely pale, until Banks discovered, to his amazement, that they were "white with the Dung of Birds". Ashore for an hour or two, the landing party shot so many boobies, presumably big enough to merit a place in the ship's big cooking pot, that the muskets ran out of ammunition.'
Poverty Bay (North Island, New Zealand)
A curmudgeonly titled jewel of New Zealand's east coast.
'Cook's first impression was not as hopeful as this fertile land deserved. The horseshoe bay where his men first landed and fought in New Zealand was christened Poverty Bay. The unjust name was conferred, after Cook ended his stay, because "it afforded us no one thing we wanted". He had hoped to ferry from the shore fresh casks of water and bundles of fresh greens and perhaps fresh meat and fish but, through one mishap and another, he gained nothing. He had also hoped to initiate friendly relations with the inhabitants. That failure, as much as anything, was his reason for denouncing a bay and a landscape, in whose quiet beauty and richness the earlier and later inhabitants rejoiced.'
Cape Foul Wind (South Island, New Zealand)
It had nothing to do with what was coming from the ship's galley.
'There was something Norwegian about the height of the coastal mountains and the fjords or "sounds"; but Cook did not see the narrow entrance to Milford Sound, one of the most majestic scenes of the entire Pacific. He glimpsed a glacier and stretches of snow, but saw no sign of habitation – not even a wisp of smoke from a fire. The only prominent creatures were the albatrosses, with their white faces expressionless as they followed the ship at a distance. Then they effortlessly glided forward, even hovering above the masts. For four days in succession Sydney Parkinson, filled with the glory of the sea and earth, thought the western coastline of the South Island was "as wild and romantic as can be conceived". Rarely in the voyage was the crew of the Endeavour so close to land for so long but not allowed to go ashore. The fog came down like a cloak, and then the winds began to roar before calm descended, after which the ship made little headway. The weather on one gloomy day, though not the worst, "put us all out of spirits", lamented Banks. For nine days in succession he spent only a couple of minutes, if that many, in writing up his journal. Even Cook, the stoic, was not altogether pleased. The main headland on that west coast he christened Cape Foul Wind.'
Cape Tribulation (North Queensland)
A foreboding turning point as the Endeavour entered troubled waters.
'The next cape on the mainland was a grassy hillock rather than a rocky headland. To sailors on watch it was visible only from certain angles and indeed was low compared to the conspicuous mountains that rose behind it. It hardly deserved a name, and yet Cook would soon christen it Cape Tribulation. Then part of everyday speech, and resonant with familiar biblical echoes, the word 'tribulation' is now outdated and used mainly in the phrase 'trials and tribulations'. To Cook, however, it was a powerful word, and he used it to christen the cape because here – he afterwards wrote – 'begun all our troubles'. His grammar was not quite correct but what did that matter when the life of everyone on board was in danger?'
Hope Islands (Far North Queensland)
A glimmer of possibility for the crew of a leaking ship.
'When the ship was stuck on the ledge of rock, everyone had looked longingly towards the mainland. It seemed to be 20 or 30 miles away, with hills clearly visible behind the shore. That gap, however, would not be crossed easily by the smaller boats if by chance the crippled Endeavour sank. Fortunately between the ship and the mainland were low islands, one of which could be seen from a distance. "I have named them Hope Islands," wrote Cook. Now, as the patched ship sailed past them, Cook confessed that they were "a poor enough object of hope, mere bush-covered sand cays, small and low, each surrounded by a reef". He must have guessed, but did not say so, that they were unlikely to supply enough fresh water to keep men alive.'
Young Nick's Head (North Island, New Zealand)
Banks's adolescent servant had his name immortalised after catching sight of New Zealand's east coast.
'Cook wrote one other name on the new map that he had begun to draw. At the south end of Poverty Bay was a headland which, to the delight of the juvenile discoverer, was henceforth known as Young Nick's Head. In the eyes of the white New Zealanders of a later century the headland, so romantically named, served almost as sacred ground: the beginning of what they saw as the history of their New Zealand. To the Maori, it came rather to be seen as a twilight of their way of life.'
---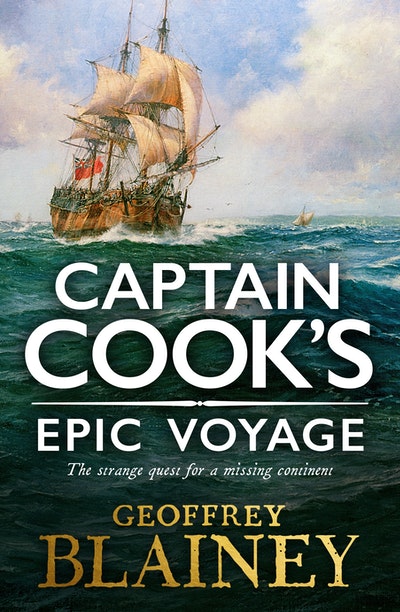 The story of the astonishing voyage of Captain James Cook and the Endeavour, to mark the 250th anniversary of that voyage, and Cook's claim to sovereignty.
Buy now
Buy now
---