Need a little help navigating the pitfalls of modern living? There are philosophers for that.
In When You Kant Figure It Out, Ask a Philosopher, academic and Montessori school founder Marie Robert explains how pearls of wisdom from the greatest Western philosophers can help us face and make light of some of the daily challenges of modern life. Got a hangover? Turn to Aristotle. Steadying yourself for a blind date? Plato's your guy. Finally launching that start-up? Bergson's got your back.
In the passage below, Robert reveals a common quandary that sparked the inspiration for this book: navigating the IKEA homewares labyrinth.
Four hours spent wandering the aisles of IKEA for nothing. All hope was lost. I was ready to slap the next person who uttered a cute Swedish word as I walked into yet another room full of boxes and began to cry.
The day had started so well. I'd had a plan: I had basically learned the entire IKEA catalogue by heart and made a careful list, all set to prove to the world just how type A and efficient I could be. But now, much like the spatula display I had just knocked over, my grand plan had come crashing down. Stumbling through the aisles of that huge store, surrounded by real adults who clearly had their lives together and their furniture in a cart, I felt even more helpless and pathetic by comparison. I was in meltdown mode: lost in IKEA and lost in life.
How could I make myself feel better? I considered stretching out on a bed named after a Viking, or stealing a bottle of vodka, but then I had a better idea: Baruch Spinoza. He's always been one of my favorite philosophers. I sat in a corner of the store and imagined my old friend Baruch handing me a cappuccino and comforting me. I pictured him reminding me that desire is what makes us alive, what drives us to move forward in life – and I stopped crying. Suddenly IKEA, and my life, felt far less overwhelming. As I stood up and wiped my eyes, I realized that philosophy had saved my day.
In that corner of IKEA, the idea for this book was born. It's about twelve philosophers who can help us keep it together, even when everything in our lives seems to be falling apart. In its chapters I talk about life's chaotic, difficult times: when we're angry, embarrassed, scared, or confused. People have to find ways to get through these times day after day, year after year. What better way to deal with challenging moments than philosophy? Why not turn to the words and ideas that have been helping people make sense of their existence for centuries?
I want to get philosophy out of the library and into bars, dinner parties, offices, and people's everyday lives so it can be what it was meant to be: wisdom that helps us navigate life, not something pretentious and abstract. Studying philosophy should not mean reading something in a book and then forgetting about it. Philosophy should make our lives more meaningful. It should comfort and free us. It should help us cope with the difficult parts of our lives – whether we're getting ready for a date, arguing with a teenager, or grieving a dead pet.
Taking philosophy down from its pedestal is the best thing we can do for it, and us. If we can get acquainted with these great thinkers, when the next moment of crisis arrives, instead of freaking out and crying in IKEA, we can sit down and have a coffee with Aristotle, Plato, or Kant and hash it all out until we feel better.
---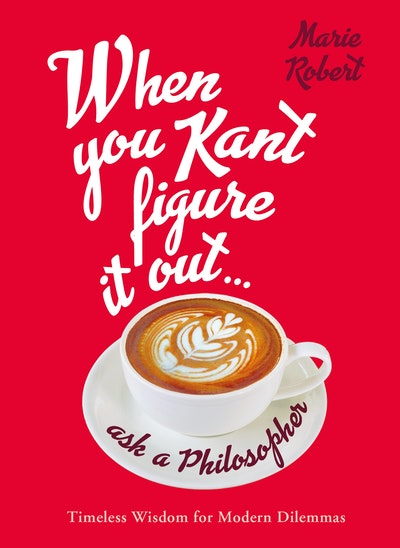 Advice for modern dilemmas from the greatest Western philosophers.
Buy now
Buy now
---