From See You in the Piazza, Frances Mayes celebrates her endless infatuation with Italy.
Italy, the endless surprise. The places I've chosen for this book are for example, because if you travel adventurously, you will find many others that draw you close and let you see why you ventured so far, and what you will take with you when you leave. Will it be a swim in the October-cold sea at Carloforte on Isola di San Pietro in Sardegna, a dip that jolted you out of summer doldrums and propelled you with great energy into the fall? Or a plate of arugula dressed with lemon juice and fresh olive oil in Sorrento, when the taste wedded to the heady scents of citrus blossoms from trees layered in ascending terraces all around you? That became the way you wanted to eat for the rest of your life…
I divide my time between Italy and the United States. My home in Tuscany, Bramasole, became second nature to me and now is the place I've lived the longest of anywhere in my life. Do I know Italy well? No. Not because I haven't traveled, cooked, observed, gazed at a million paintings, and read the convoluted history. To know Italy takes ten lifetimes. Each time I return, I feel the same excitement I knew in the first years of living here. So much to learn, and what luck, I'll have five weeks or six days or three months – surely I will begin to feel I've a grasp on the place. But Italy remains elusive. Just beyond that hilltop castle, there's a valley of olive trees, then another town where the stony streets are pale gold instead of gray. The pasta is different there – made with half bread crumbs – the dialect is unintelligible, the local duomo's frescoes are painted in apricots and chalky blues with sublime faces you later see in the local bar while you sip your Negroni. You were in Bevagna; now you're a few kilometers away in Montefalco, a new world. Infinite differences – all packed into a country about the size of Arizona.
Hungering for more – more understanding, more exposure, more pasta – my husband, Ed, and I suddenly pack our little white Alfa Romeo and hit the road. Sometimes we are joined by William, our grandson; sometimes we are joined by friends, for an hour or for a week. Our wanderlust awakened: For a year and a half, we seek unique places hidden in plain sight, and also cities such as Genova and Parma – the names known, but who has lingered there? Italy. Infinite.
Because pasta is the national anthem, I'm searching for quintessential tastes of each place, though instead of pasta I might fall for sbrisolona, the crumbly, nutty dessert that turns divine when dipped in zabaglione. That swim in Carloforte? Followed by robust paccheri, a large hollow pasta with a talent for soaking up tomato and eggplant sauce. A fritto misto followed, fish just pulled from the water, crisply fried and succulent. That lusty dinner became Carloforte! And impossible to forget the pitcher of fruity red wine and the salad of wild greens picked that morning from the earth. The score of our adventure is the music of many corks popping. Travel is a journey into one's own ignorance. Nothing proves this more quickly than dipping into Italian wine varieties. In every region, there are grapes – nisiola, teroldego, nerello mascalese – I've never known existed, as well as particular wine making methods, such as the revival of aging in clay amphoras lined with beeswax. The Greeks and Romans, who seem to have known everything, also buried their giare. In effect, they're planting the wine into the earth.
Such passion everywhere for food. Even a two-year-old has an adventurous palate! More snails! He bangs with his spoon. More! We share the zeal. On arrival in every town, Ed begins plotting. How many lunches? How many dinners can we enjoy in this exceptional place? And markets! Each town retains the tradition of weekly go-to-market day. What's freshest, what's ready to plant, who has the truffles, who has the best porchetta, are the little violet artichokes in yet? I try to plan to be in a town on market day. There, you pick up a recipe for topinambur, Jerusalem artichokes, or you're offered a taste of the annurca apple (annurche, plural), an ancient variety that is picked green and ripened to winey sweetness on straw beds. (The grower will brag that Italy has a thousand five hundred varieties of apple, while the French have only fifteen. A suspect figure, but I admire his passion, molto italiano.) Vendors sometimes still hawk their wares, their high croaking voices hearkening back to the Middle Ages, when in these same streets men sold their honey and chickpeas.
The most vivid pleasures of Italy are the simple ones. You're installed at a table on a sun-drenched piazza. You have your notebook and the whole day. There's nothing you must do except let that sundial cast its shadow on the next hour, let the apricot façade of a renaissance palazzo reflect on the faces of those around you, let the memories of what brought you here rise and facet in your mind, let the waiter bring that second cappuccino before you set forth into the day.
Fresh memories: Greek-white villages of Puglia clinging to cliffs above the sea, the siren call of the Lazio coast, knotty medieval streets of Genova, vast underground Roman cisterns in Fermo, green hikes and hot chocolate in the Dolomiti, the trail of Frederick II's Puglian Romanesque churches, afternoons on the golden Tuscan beaches, the atmospheric Torino coffee bars where Cesare Pavese would write… Endless, yes.
---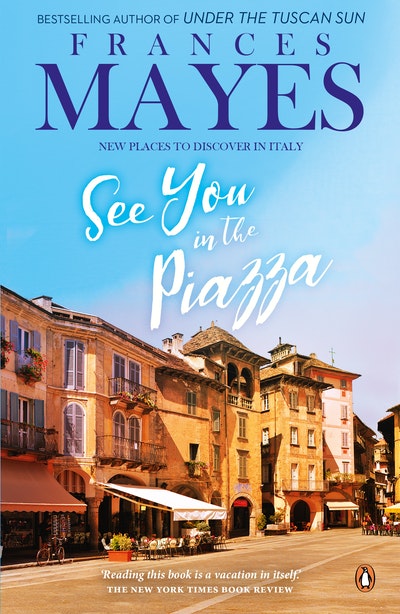 Bestselling and beloved author Frances Mayes discovers the hidden pleasures of Italy in a sumptuous travel narrative that crisscrosses the country, with inventive new recipes celebrating Italian cuisine
Buy now
Buy now
---