In Fridays with My Folks, Amal Awad unpacks some of life's biggest questions.
After her father was diagnosed with kidney failure, journalist and author Amal Awad wanted to help out, so she began spending every Friday with her elderly parents. It quickly became apparent that retirement is far from the leisurely cakewalk we might envisage. Navigating this new reality of doctors' appointments, fragmented conversations and reshaped family dynamics led Awad to ask questions of how Australians are ageing. Faced with the inevitability of our own eventual decline, where is the support? Who can we turn to? How are we supposed to cope?
By sharing her experiences in Fridays with My Folks, Awad opens up a universal discussion about life, ageing, illness and approaching the ends of our lives. In the passage below, she introduces some the strange dynamics of their new weekly arrangement.
I often think back to my father's reaction to his diagnosis of kidney failure. 'I'm going to stay hopeful,' he told me. And his positivity worked – until he had to face the limitations of his body as it deteriorated. He was still driving, but less so. Still active, but things like getting to the mosque on a Friday became more difficult.
I needed to see my parents more often, to take them places that would be harder to get to themselves. In a moment of inspiration I committed every Friday to them. I wanted them to have as much normality to hold on to as possible. I needed to ensure Dad could get to the mosque, and sit in the company of other men in worship as he had always done. I wanted to be beside my mother, accompany her in the process of a changing lifestyle.
My eldest brother, Alex, has claimed Sundays, with his wife Kelly and their children. My older brother Hossam spends a couple of days with Mum and Dad, too, traversing Sydney and finding new and interesting things to do. My younger brother, Anwar, cleverly brought the DVD box set into their lives, purchasing Columbo (which Mum and Dad have watched twice).
And then there's me, every Friday, exploring different possibilities, a dutiful, respectful daughter. I wondered at first if the Fridays made a difference. At the very start there was a teething process, resistance from my mother. She felt I was wasting my day (a sentiment I didn't share). My father seemed fine with the arrangement – or at least he didn't object to it. Considering it now, I think he was simply quiet, trying to make sense of things.
Fridays began in this tentative way, like we were all trying out a new pair of shoes that should have been the right size, but felt a little too tight. Over time perhaps they'd stretch out, but for now the discomfort ran deep. Each week I looked for signs that Dad was back. This life-loving man who liked to talk, took pleasure in exploring Sydney, and enjoyed going out with my mother. So much quieter now.
My parents brought me up in a loving but strict household: Dad always working, Mum always around. I spent many years negotiating my identity as a female Arab-Muslim in a conservative family. I was used to asking for permission for everything. I lived according to customs and cultural struc­tures that meant I looked ahead to a future of being able to do whatever I liked – when I got married. So this was all new for me. How would our relationship change? I was no longer a timid daughter afraid of breaking the rules. I was a daughter facing change: being more helpful to her parents. Yet always a daughter.
­*
I'll tell you what Fridays with my folks look like. At their best, we spend a day together that is filled with stories and reflections, as we take in Sydney. At their most interesting, I'm part-counsellor, part-observer, as my mother harvests her grief from the first thirty years of her time in Australia. As my father sits still in his quietness. Relief – that's what they're seeking in their outbursts and remembrances. The universe as jury, and it's time for a hearing.
Sometimes my parents just make me laugh. I think Mum likes to get a rise out of Dad. One day as she stares out the car window she tries to provoke him with an accusation. Some­thing or other about men and how they don't like women. I can't tell if Mum means it. I suppose if I said something similar she'd probably agree with me.
Dad offers no response, so I prod him gently. 'Dad, Mum's trying to tell you something.'
Dad's a passenger now, though, so his interest lies in the world around him. Mum pulling at threads; Dad stepping over them and looking in another direction. He finally speaks. 'Look at that building, it's so tall,' pointing to a development site.
Sometimes Fridays take a lot of warming up.
A lot of warming up.
But there are moments, piercing, sharp, emotional. It might be a beat of forgetfulness, redolent of times past. Other times it's pathos, the kind you often find threaded through memories. Dad unpacking his life, his travels from his birthplace, a small town in Palestine, through Germany, before finally landing in Australia. My mother, young, hopeful, innocent, a new arrival to a country that was neither hostile nor welcoming to her.
And then moments of reflection, acceptance. The five stages play out in no particular order. Denial. Bargaining. Depression. Anger. Acceptance.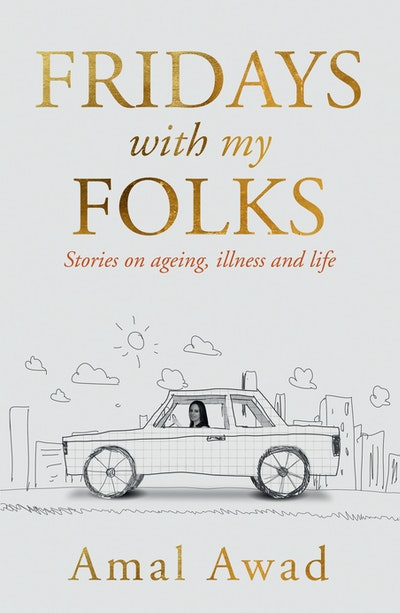 Fridays with my Folks
If we are ever going to truly get to know our parents, chances are it is going to happen during adulthood, long after we have tested each other's limits and found a meeting place. And there is an even greater chance it will happen when the 'normal life' you once had is gone and you must reconfigure how you do things.
Read more