Classic wine and book pairings for your boozy book club.
You've heard about the importance of wine and food pairings, but how about pairing your wine with words?  Whether you're hunkering down at home on a Saturday night (. . . shout out to my fellow home-bodies!) or skilfully selecting a novel to discuss at your next book club gathering, we've got you (book) covered.
 
Alice in Wonderland by Lewis Carroll paired with Orange Wine
A story about a young woman falling through a rabbit hole into a peculiar world should – nay, MUST – be paired with an equally peculiar wine. Look no further than an orange wine. Contrary to the name, orange vino isn't from Orange, New South Wales. It's effectively white wine made more like a red. That is, the white grape juice is allowed long periods of grape skin contact, giving the wine a faint amber colour. It's a Georgian winemaking style that can be pretty funky (when faulty). But when it's good – HOOH MAMA – it is good. Much like a mad tea party. Or a grinning Cheshire Cat.
 
Picnic at Hanging Rock by Joan Lindsay paired with Pet-Nat
This eerie historical fiction about a group of boarding school girls going missing on a Valentine's Day picnic at Hanging Rock is well suited to a pet-nat from Adelaide Hills. Pet-nat stands for pétillant-naturel – a super smashable 'natural' sparkling wine that is extra textured and similar in style to a cloudy cider or beer. Light on preservatives, heavy on carbon dioxide. It's very much a picnic kind of drink. Just don't get drawn to any ancient rock formations on aforementioned picnic (it probz won't end well for you).
 
The Art of War by Sun Tzu paired with Shiraz
Hoping to outwit your opponents with outrageous skill and cunning? Many claim that Tzu's iconic military manual is as effective in a 21st century boardroom as it is on a 5th century battlefield. Pair it with a blood red, full-bodied Shiraz from the Barossa Valley, McLaren Vale, Clare Valley, Eden Valley, Heathcote or the Hunter Valley. Tzu and Shiraz will be an ideal match as both are richly textured and — lessbehonest — kind of dark.
 
A Room of One's Own by Virginia Woolf paired with Moscato
Is the patriarchy getting you down? Hole up in your bedroom with Woolf's seminal feminist essay, based on two lectures she gave at Cambridge in 1928. And, while you're recharging your spirit, crack open a bottle of Moscato. Moscato is a sweet, lightly fizzy style of wine that is lower in alcohol than most vinos and unlikely to make you feel sorry for yourself the next day. Good examples of the drop can be found in NSW's Hunter Valley, Orange and Mudgee; northern Tasmania; SA's Adelaide Hills, Clare Valley and Langhorne Creek; Victoria's Geelong and King Valley; and Queensland's Granite Belt. And while you're sipping, make sure to toast to women's right to education.

Holding the Man by Timothy Conigrave paired with Grenache
Get your Kleenex ready because Timothy Conigrave's memoir about his 15-year relationship with his husband John Calleo will make you ugly-cry. Try (and fail) to hold it together by pairing the elegant prose with a refined, yet fruity Grenache from McLaren Vale or the Barossa Valley in South Australia. (Then do yourself a favour and read Tommy Murphy's stunning stage adaptation too. Because you're worth it.)

Labyrinths by Jorge Luis Borges paired with Malbec
If you'd like to lose yourself in a collection of surreal short stories and essays, run (don't walk) towards a copy of Borges' Labyrinths. As you read, you'll find yourself in a magical fever dream of mythology and philosophy that'll make you go, 'Wait, what?'
If all this enigmatic storytelling sounds a bit out of this world, stay grounded with a plummy, full-bodied glass of Argentinian Malbec. Think: flavours of raspberry, plum and even a sniff of tobacco (when it's been around oak). Its hearty, robust tannins will be sure to help you remember if you're a river or a tiger or a fire. (Don't get that reference? Trust me, it's solid.)

The Great Gatsby by F. Scott Fitzgerald paired with Sparkling Wine
And lastly, transport yourself back in time to the glittering galas and post-war longings of 1920s America with The Great Gatsby. Follow the bright young things towards the green light with a splash of sparkling wine in a coupe glass. Sure, Champagne will help fan your flapper fantasies, but a glass of crisp Tasmanian sparkling will really get your toes tapping (and be patriotic AF). Just be sure not to drive anywhere after.
---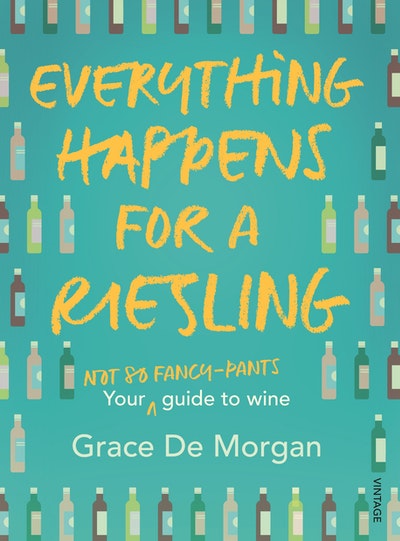 Your not so fancy-pants guide to wine.The ultimate book for winos who don't take themselves too seriously, but do seriously love their wine.
Buy now
Buy now
---