George Megalogenis reveals a little something democracy could learn from sport.
What can the fortunes of a football club tell us about the nation? According to George Megalogenis, at a time when politics is increasingly conducted like sports – full of tribalism, captain's calls and policy dictated by the Newspoll scoreboard – football as an institution is more relevant than ever. And in his book The Football Solution, he reveals how the game shaped by the nation, in turn, might help resolve Australia's political impasse.
From football's foundation through the mixed fortunes of his beloved Richmond (as both football club and suburb), the establishment of a national competition to the AFL's biggest controversies and, ultimately, the transformation of the Tigers from laughing stock to premiership role-model, Megalogenis teases out some of sport's narratives in the context of broader Australian society. In the passage below, he reveals the moment he predicted an unlikely happy ending to Richmond's epic tale.
I have always wanted to write a book about Australia that takes as its central characters my football club and the inner-city suburb it sprang from. A club that rose from the slums to become the most popular in the country, but fell to earth when football went national. A club of very Australian contradictions.
I had a beginning and a middle, but it never occurred to me that there could be a happy ending. Richmond was the tragic character in a soap opera, destined for perpetual heartbreak. Each season would tease the possibility of fulfilment before taking a humiliat­ing twist. The finale was never in doubt. The suspense was only in the timing and the detail of the dignity-shredding loss.
The 2017 premiership changed that plotline in a delightful, unexpected way. It went beyond sport, speaking to the very mean­ing of national life.
Across the world, sporting competitions were producing fairy-­tales that gave their communities permission to enjoy themselves. Between 2016 and 2018, the cities of Leicester, Cleveland, Chicago and Philadelphia, and the suburbs of Footscray and Cronulla, celebrated their drought-breaking championships with street parties that recalled those that greeted the end of World War II.
Although Richmond's premiership was part of this global trend, I believe it sits in a category of its own. Partly because it was my club, and partly because it carried a lesson for leadership in Australia. Richmond didn't just win, it rewrote the rules for sporting success. For the Tigers, there was no logical reason to think that 2017 would be different from the previous thirty-six years of disappointment.
The season began with the team winning while playing poorly. Hope. Then they placed themselves on the guillotine of public rid­icule by losing a couple of close games in which their play merited a win. Let down.
Then they started winning again. Hang on?
I was reminded of the conversations I'd have with my mother as a ten-year-old, back when a Richmond premiership was a rea­sonable expectation. In 2017, we were talking that way again. One moment we were going to the footy out of habit, because it was the best time of the week for the family to catch up, the next we were thinking ahead to a top four finish and the path to a grand final.
As my confidence grew, I figured I should share my hunch with the handful of people who followed me on Twitter.
And so, with four games still left in the home and away season, I publicly predicted a Richmond premiership. To increase the degree of difficulty at my own expense, I declared my faith on a weekend when we didn't play all that well. I waited for the blow­back. There was none.
I pinned the tweet to the top of my account, replacing a column I had written for the New York Times on Australia's stellar migra­tion record. Still, no blowback.
The people who replied to my missives throughout August and September behaved in a manner completely abnormal for Twitter. That is, their engagement was thoroughly human.
There was none of the static that enters my feed when I tweet about politics. No misspelled insults. No accusations of bias. No random arguments between strangers based on obscure readings of past events. Just a series of funny conversations about a game.
The good humour in cyberspace was replicated in the physi­cal world. Not a week went by without someone shouting across the street, or out of the window of a passing car, 'Hey George, go Tigers!'
After Richmond had won the premiership, I mentioned my prediction – its smart-arse timing, and the unexpected response – to Neil Balme. Few people in football can credibly claim to have seen it all, but Balme really has. He played in two premierships for Richmond in the 1970s, in the era of black and white television replays, coached two premierships at Norwood in the South Australian competition in the 1980s, and won another three premierships in the twenty-first century as an administrator at Geelong.
He tells me he didn't see Richmond's success coming. Which is to say he thought my premiership forecast was evidence-free and exceedingly heroic.
'That is why footy is so popular,' he laughs. 'Everyone is entitled to that opinion, however wrong it may be.'
Football had achieved what politics no longer aspires to, an ideal democratic space.
---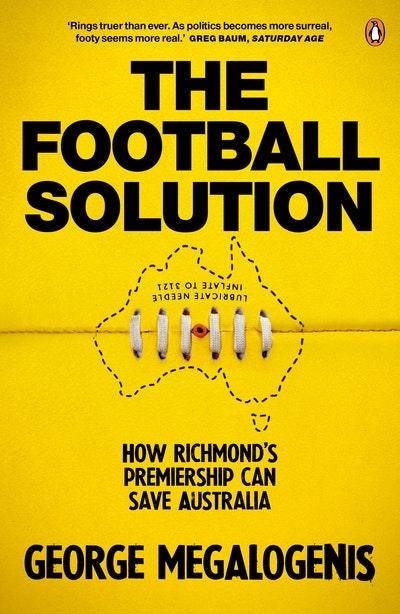 In a characteristically sweeping and entertaining story, George Megalogenis reveals how football has been shaped by the nation that invented it and how the game we love, in turn, might help resolve Australia's political impasse.
Buy now
Buy now
---