Bernadette Fisers on beauty and happiness.
I've dedicated my life to making others beautiful and travelled the world with my skills. I've worked on Hong Kong rooftops for magazines, Italian islands for fashion campaigns and TV shows in Berlin. I've loved it all. Unfortunately those same beauty efforts didn't extend to myself – I let myself go. To the point that I was diagnosed as morbidly obese and my health was seriously at risk. I managed to turn that all around and even wrote a bestselling book about it. Despite that success, like most woman I still question myself.
How am I going to become more beautiful? My daughter says I look beautiful, isn't that enough? I look in the mirror and examine my well-travelled face. Like most women I judge it too harshly. I point out my flaws to anyone who will listen, and can list them endlessly.  I can't remember the last time I pointed out my good bits – probably because I could count them on one hand and they are still just bits.
I'm not 20 anymore. But then again, I don't want to be either. Why were we all so critical of ourselves? We looked amazing – we just didn't believe anyone who told us, including our mothers. Strike that – especially our mums. Now I can turn the mirror to super magnification and see my mother staring back at me. It's both frightening and touching.
I'm an expert in beauty, and have been making up faces for years. I see the self-criticism in a woman's eye when she looks in the mirror before she gets 'worked on'. It doesn't matter how successful or famous you are.  We're all the same. The insecurities slowly disappear as the makeup mask goes on, and their fleeting confidence returns for the day only to get wearily washed away again at night.  
You don't need to be a celebrity or a CEO to feel like that. We all feel it, every morning in the bathroom mirror. It doesn't matter what country you live in or how much money you have. We're more similar than you think, doubt doesn't discriminate.
Despite what the cosmetic ads say, I can see those lash inserts, I can see the retouching and the flattering lighting. The fantasy that tries to be the truth. I aspire... but not to be like that. I know it's not real. I've worked too long behind the scenes to be taken in. I've seen the effort and time involved. The models often say that they wished they look that good – it's funny and wrong on so many levels. I want aspirational not impossible.
Beauty means different things to different cultures. The one I'm living in seems to love plastic surgery. That's not for me, I don't want to be sliced and diced. I like a face with character and movement, it's beautiful. There's no point in lying about it... I can see if you've had Botox from 20 metres. Where does that Botox go after it's finished its paralysis job? Does anyone know? Does anyone even want to know? Though I'm not the type of woman who goes under the knife, I certainly don't judge those that do. I'm not a celebrity or a model and my work doesn't depend on my looks, thank goodness.
I like who I am. Yes, of course I would love those wrinkles to disappear – a bit – and yes I often have daydreams about fantastically perky boobs that stand up without a bra. I've got my vanity too, but in essence I'm happy. I try to remember to be grateful, I appreciate the small things.
There is something that makes us all glow, and it's intoxicating. It's called happiness.  It makes the generous mesmerising, the caring sparkle and the kind dazzle. We all have beauty in us. We can all be confident in our bodies and ourselves. We just need to remember these simple truths of caring, kindness, integrity, sharing and generosity.  
Sometimes the constant background noise and barrage of bad news makes it hard to think clearly. Maybe it's time to tune out a bit, and refocus on what's really important. I don't think I am going to care about how many followers I have on my death bed. I will care about the quality of my life and those in it. I want to have lived with integrity – if I can help another I will. It should be more about we and less about me. I know that, but sometimes it's easy to forget.
At the end of the day there is really only me, lying on my back in bed with my nearest and dearest – snoring, an arm length away. And that's ok. I've shifted my focus away from the phone screen and back to where it belongs – my family and myself. As long as they like me… most of the time, then I'm ok.
Just like weight loss, something I know a bit about, true happiness starts in the mind. So step back and look at it and examine it – because like weight loss it's also pretty simple. We've just complicated the fuck out of it.
I think beauty is more than a look…it's an essence.  My inner beauty is more important than my outer beauty. I know that and believe it down to my soul. But that doesn't mean I don't care about how I look, because I do. It's part of who I am. I want to feel sexy, and I'm pretty sure that it doesn't have an age limit – if so, let me know and I'll turn in my lacy underwear.
I want to be ethical, I want to be happy. I want to be healthy.  I want to live what I believe. My life is precious. I want to be the best me possible. Like most women I am a complete contradiction. I cry with frustration and I cry with laughter. I can be an athlete, I can be a Mum, I can be a makeup artist and I can be an author. I can be weak and I can be strong. I struggle with telling myself I'm beautiful or I'm enough. That self-doubt has been gently holding my hand my entire life. It's time we parted ways.
I want to feel beautiful and happy on the inside and out. I'm pretty sure that's what we all want.  I'm not prepared to sit around and wait, time is the most important commodity I've got. I'm writing my books for us. I'm one of us. I'm a hardworking, Australian mum.  
---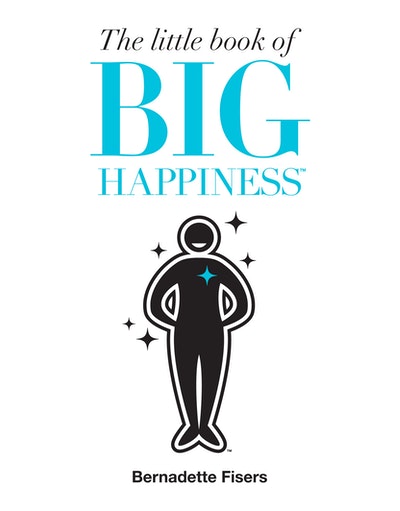 From the bestselling author of The Little Book of Big Weightloss comes a simple, down-to-earth guide to tapping into the greatest source of happiness: YOU.
Buy now
Buy now
---