What is it that makes a book gripping? We investigate story structure with Two Wolves by Tristan Bancks.
For teachers and parents:
Students will read, watch, listen and think about what makes a story engaging. They'll investigate character, story structure and narrative drive. There is an extension question to further explore these areas. This activity is suitable for independent learning for Years 7–9 and will take between 1–1.5 hours, excluding the extension activity.
For students:
Two Wolves is a gripping story with plenty of action, adventure and some great twists. By the end of this activity, you'll understand how to structure a story and you might also want to have a go at creating your own thrilling tale.
Follow the steps below to complete the exercise.

1. Watch the trailer below then answer the questions in step 2.
2. Answer these questions about the trailer:
     a. Do you think it is a real news report? Why or why not?
     b. Would a story like this normally make the news? Why or why not?
     c. Based on this trailer, who do you think the main characters - also called the 'protagonists' - are in this story?
     d. Use your imagination to create a list of five possible reasons why police have 'grave fears' for the children.
3. Watch the video below featuring the author of the book, Tristan Bancks, talking about Two Wolves. When you're finished, answer the questions in step 4.
4. Answers these questions about the trailer:
     a. Why do you think Tristan said 'kind of kidnapped' rather than just 'kidnapped'?
     b. From this interview, we know the family is on the run. Use your imagination to think of a reason as to why they might be on the run?
5. Read the excerpt from the first two chapters of Two Wolves and then answer the questions in step 6. Take your time and enjoy reading it.
Click here to read an extract from Two Wolves.
6. Answer these questions:
      a. Who is the main character? Is it the same person you thought in your answer to question 2. c.?
     b. How would you describe this person? Think of how they look, what they like doing, what they don't like, what they want to be when they grow up.
     c. What is odd about the holiday the family is going on?
     d. How would you describe the father?
     e. Do you think Ben and his father get along well? What part of the text makes you think this?
     f. Look up the word antagonistic. Would you say Ben's father is antagonistic to him?
     g. At the end of the excerpt, why might they be changing cars?
7. At this point, you've probably worked out some of the plot, but it's hard to work out why the police are interested in Ben's family.
But think about what you do know. You know what Ben wants to be when he grows up. You know that the police are after his parents for some reason.
Now answer these questions:
     a. Do you think Ben feels conflicted by what is going on? Why or why not?
     b. What unanswered questions might Ben have?
     c. Who do you identify with most in the story? Why do you think that is?
8. Try to complete the sheet below. You can probably only do half of it. Write the answers you think you know in black. Write the answers you're having a guess at, because you haven't read enough of the book, in red or blue.
9. In the activity sheet, it says: The character is prevented from achieving their goal by . . . 
     a. Why is it important that there is a problem in a story?
     b. Do you think there are enough problems at the start of this story to make you keep reading?
That's the end of the exercise. Today you've learned how to describe a protagonist, what an antagonist is and why stories need to have problems. If you want to keep reading Two Wolves, to discover how the story unfolds and how it compares to what you imagined, see https://www.penguin.com.au/books/two-wolves-9781760892661 and find the book at your local bookstore.
Extension exercise: write your own short story about a family being on the run. Use the questions on the activity sheet to help make your story more interesting.
Note: Further teaching resources can be found here: https://www.penguin.com.au/content/resources/TR_TwoWolves.pdf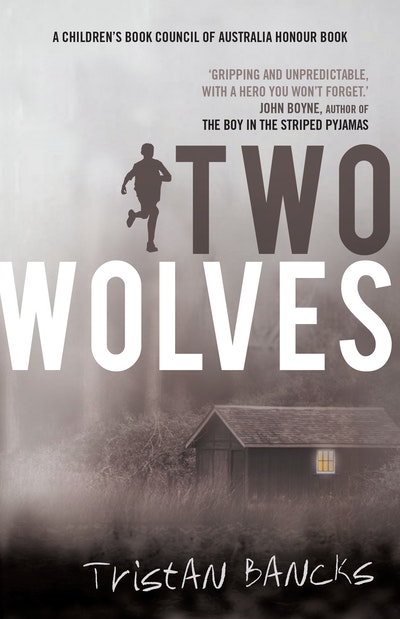 Two Wolves
SURVIVAL, SECRETS, TRUTH!
Get ready for a wild adventure filled with moral dilemmas and tough choices.
Read more