Tofu has been a firm favourite of my family's since way back, and my Buddhist grandparents would always promote the idea of eating more veggies and beans over meat.
Tofu (soybean curd) is cooked in a myriad of ways in China, and other Asian countries too. It comes in different forms and textures, but for the first tofu recipe in this book, I want to introduce you to one of my favourite and tastiest ways to prepare it, and I'm proud to say that I've converted many tofu-haters with this recipe – it doesn't have to be bland and tasteless. The secret to great-tasting tofu is cornflour (cornstarch), which gives the tofu a crispy outer coating when fried, and makes a welcome contrast in texture as you bite into the soft inside.
Prep: 10 mins *plus pressing tofu
Cook: 15 mins
Serves: 2
Ingredients
350g (12oz) block of firm tofu, drained
25g (1/4 cup) cornflour (cornstarch), more if needed
1 tsp sesame oil
2 tbsp light soy sauce
1 tsp rice vinegar
1 tsp granulated sugar
3 garlic cloves, minced
2 tbsp cooking oil of choice, plus extra if needed
½ tsp black sesame seeds
½ tbsp Easy Chilli Oil (see p.23), optional
Pairing suggestions
Classic Egg-Gried Rice (see p.78)
Sweet Soy Enoki Mushrooms (see p.86)
Method
Drain the tofu well to remove any excess liquid, which would otherwise dilute the taste of the dish. If the tofu needs pressing, wrap it in a few sheets of kitchen paper and weigh it down with heavy plates. Leave it to drain for 30 minutes, then cut the tofu into bite-sized cubes.
Put the cornflour on a plate, add the tofu (in batches) and turn to generously coat the cubes on all sides. Pat off any excess cornflour.
In a bowl, mix together the sesame oil, soy sauce, rice vinegar, sugar and garlic, then set aside.
Heat the cooking oil in a large frying pan on a medium heat. Add the tofu and fry until light golden and crisp on all sides, about 10 minutes. Try not to move the tofu too much while frying, just turn it before it becomes too brown and make sure there are no uncooked patches of cornflour. Add more oil to the pan, if needed.
Pour the sauce over the tofu in the pan and gently turn until everything is combined.
Scatter the sesame seeds over the tofu and finish with a splash of chilli (chile) oil, if you like. Serve on its own or enjoy with classic egg-fried rice and sweet soy enoki mushrooms.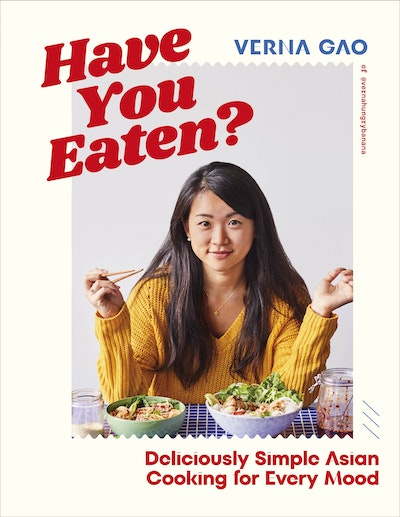 Have You Eaten?
A beautifully personal cookbook of more than 70 easy and inspiring Chinese and East Asian recipes for every occasion
Read more