An easy meal to whip up from mostly store-cupboard ingredients.
The black beans can be swapped for red kidney beans or chickpeas so it's a very versatile dish. Cajun spices infuse tons of punchy flavour into this simple bowl and you can add crispy spiced sweet potatoes to make it into a very moreish and sustaining dish.
Serves 2
Prep 10 minutes
Cook 40 minutes
2 sweet potatoes, chopped into 2cm cubes
1 tsp Cajun spice mix
2 tbsp olive oil
Sea salt
For the black beans
2 tbsp olive oil
1 bunch spring onions, chopped
4 garlic cloves, sliced
1 tsp Cajun spice mix
1 tsp cumin seeds
1 tsp ancho chilli flakes or chilli flakes
1 red pepper, sliced into small pieces
250g cherry tomatoes, halved
400g can black beans, including their water
1 tsp sea salt and white pepper
Toppings
Plant-based yoghurt
Mint or oregano, chopped
Preheat the oven to 180°C.
Add the sweet potatoes to a baking tray along with the Cajun spice mix, salt and olive oil and toss to combine. Bake the sweet potatoes for 35–40 minutes or until crispy on the outside and soft in the middle.
To make the beans, add the oil to a large frying pan on a medium heat. Add the spring onions and fry for 6–8 minutes until soft and browning. Add the garlic and fry for a further minute.
Add the spices and cook for a minute or so. Add the peppers and cherry tomatoes and cook for a further 5 minutes until they have softened. Add a splash of water if needed. Now tip in the black beans with their liquid, cover and simmer for 10 minutes. Season really well.
To serve
Serve the black beans topped with the crispy sweet potatoes!
Hungry for more recipes? Sign up to our foodie email here
---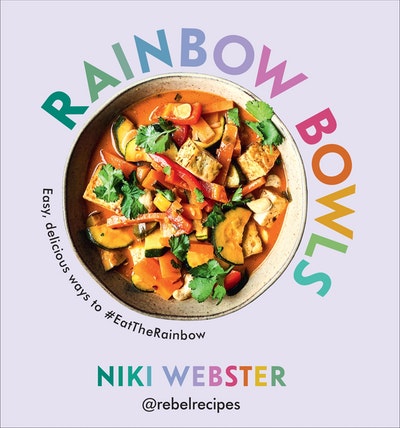 Easy, colourful vegan one-bowl meals. For fans of Buddha Bowls (21k gross) and Bowls of Goodness (20k)
Buy now
Buy now
---