An extra tasty roast that the whole family will love.
SERVES 3 TO 4
1/2 tablespoon sweet paprika
1 teaspoon onion powder
1 teaspoon garlic powder
Kosher salt and freshly ground black pepper
1 whole chicken (3 1/2 to 4 pounds), spatchcocked
3 cloves garlic, divided
1 lemon, zested and cut into 1/4-inch slices, plus additional lemon wedges for serving
3 tablespoons unsalted butter, softened
1 carrot, scrubbed and cut into 2-inch pieces
1 head broccoli, florets cut into 2-inch pieces, stems peeled and cut into 2-inch pieces
1 medium sweet potato, scrubbed and cut into 1 1/2-inch chunks
8 sprigs thyme
1 (4-inch) sprig rosemary, broken into 2 or 3 pieces
2 tablespoons olive oil
This roast chicken is a weekly tradition at my house, and it's one of the first things Pilar made for the girls. Olive goes in for the drumstick, and Frankie the breast; always a little something for everyone.
A few tips: spatchcocking the chicken helps the chicken cook more evenly and reduces the cooking time, too. If you've never spatchcocked a chicken before – have no fear! It is way easier to do than to say. All you need are some sharp kitchen scissors, and you're all set. Also, we recommend seasoning your bird in advance – up to 1 day. This produces an extra tasty (and crispy-skinned) roast chicken.
Got leftovers? No problem! The fully cooked chicken will keep in the refrigerator for up to three days and can be used to make chicken noodle soup, chicken salad, or chicken tacos. Yum!
Make the rub. In a small bowl, combine the paprika, onion powder, garlic powder, 1 tablespoon plus 1 teaspoon salt, and 1/2 teaspoon pepper.
Season the bird. Place the chicken on a cutting board. Sprinkle half of the spice mix in between the skin and the meat of the thighs, drumsticks, and breasts. With the remaining spice mix, season the chicken all over, this time focusing on the skin and the underside. It may seem like you have a lot of spice mix, but if you thoroughly coat the meat and skin all over, you should use it all up.
Place the chicken on a large plate and transfer to the refrigerator, uncovered, skin-side up, until ready to roast, at least 1 hour and up to 1 day in advance. This produces a well-seasoned chicken and helps the skin crisp.
Make the compound butter. In a small bowl, grate 1 clove of the garlic, then add the lemon zest and butter. Mix until smooth.
Roast the chicken. Preheat the oven to 475 degrees. Remove the chicken from the refrigerator and let it sit at room temperature for 30 minutes. Pat it dry. Place the chicken in the center of a rimmed sheet pan, breast-side up, and tuck the wing tips behind the tops of the breasts to prevent burning.
Hungry for more recipes? Sign up to our foodie email here
---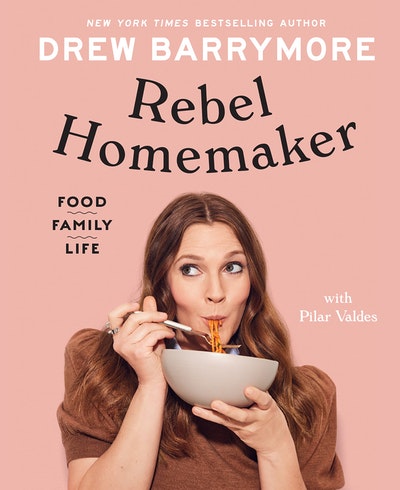 Drew Barrymore has always done things in her own rebellious way - including how she cooks, lives and finds happiness at home. Drew shares recipes, stories and personal photos that show how you too can live a healthy, delicious and joyful life.
Buy now
Buy now
---