Quick to make and even quicker to eat!
Doughnut bites (or doughnut holes) are usually something that gets ignored, especially if you have a freshly made, delicious, sweet doughnut staring straight at you.
However these are designed to be doughnut bites. These sweet mini doughnuts, coated in sugar, are the best and because they use a slightly different dough (no bread flour, yeast or proving time), they are quick to make and even quicker to eat!
Makes: 15
Prep: 30 minutes
Fry: 20 minutes
Lasts: 1–2 days (but best served fresh)
250g plain flour, plus extra for dusting
50g caster sugar
2 tsp baking powder
Pinch of salt
75g chilled unsalted butter, cubed
150ml full-fat milk
1 litre sunflower oil, for frying
COATING:
Add the plain flour, caster sugar, baking powder and salt to a bowl and mix to combine. With your fingertips, rub the butter into the mixture until it resembles breadcrumbs. Slowly add the milk to the bowl, mixing with a spatula or your hands, until a dough is formed.
Turn the dough out on to a lightly floured work surface and knead until you have a ball that is smooth and not too sticky.
Pour the oil in a large pan and heat until it reaches about 170°C – test this with a thermometer.
While the oil is heating, portion the dough into about 15 balls (about 1 tablespoon of dough each) and roll into mini doughnuts.
Carefully lower the doughnut bites into the oil with a slotted spoon, about 4 or 5 at a time, and fry about 1–2 minutes on each side. Once the doughnuts are a lovely golden colour, transfer them to a tray lined with kitchen paper to soak up any excess oil and then toss each doughnut bite into the caster sugar. Enjoy while still warm.
---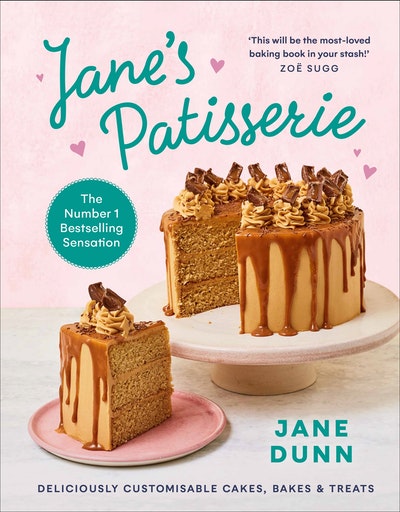 100 delicious bakes, cakes, and sweet treats from Jane's Patisserie, the Instagram and Facebook sensation. For fans of One Tin Bakes (17k), Three-Ingredient Baking (15k), and Baking with Kim-Joy (12k)
Buy now
Buy now
---