Use up those ripes bananas in this easy, delicious recipe. And it's completely animal product free!  
For a 28cm (11in) long loaf tin
Time: 20 mins prep + 1 hr baking
For the dough:
300g (10oz) plain flour, plus extra for dusting
2 tbsp cornflour
1 heaped tsp baking powder
1 1⁄4 tsp bicarbonate soda
1⁄2 tsp salt
250g fine cane sugar
1 tsp vanilla powder
1⁄2 tsp ground cinnamon
1⁄4 tsp grated nutmeg
100ml soy milk
75ml rapeseed oil
200g vegan sour cream (or soy yogurt with a squeeze of lemon)
4 medium, very ripe bananas
Also:
vegan margarine, for greasing the tin
icing sugar, for dusting
Instructions:
1. Preheat the oven to 180°C (350°F/Gas 4). In a large bowl, combine the flour, cornflour, baking powder, bicarbonate soda, salt, cane sugar, vanilla, cinnamon, and nutmeg.
2. In a separate bowl, stir the soya milk with the rapeseed oil and sour cream until smooth. Peel the bananas and mash well with a fork until you have a creamy mixture with an even consistency. Stir the banana purée into the soy milk mixture. Quickly stir together the liquid and dry ingredients with a spoon until there are no lumps in the mix.
3. Grease a loaf tin with margarine and dust with flour. Transfer the mixture to the tin, smooth the surface, and bake the bread in the centre of the oven for 50–60 minutes, until an inserted skewer comes out clean.
4. Banana bread tastes great plain or spread with some vegan margarine. To decorate, you can also make an icing by stirring together some icing sugar and banana juice. Spread this on top of the bread and scatter over some chopped banana chips to decorate.
---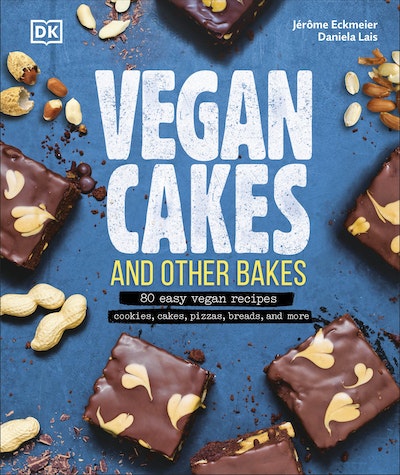 80 easy vegan recipes - cookies, cakes, pizzas, breads, and more
Buy now
Buy now
---