With poached eggs, spinach & peas.
Serves 4
Total time: 55 minutes
351 calories
As seen on Jamie: Keep Cooking and Carry On on Channel 10.
This is a particularly good breakfast, brunch or lunch. I suppose it's not technically a traditional square meal as we often see it, but it's fulfilling, a lovely contrast of textures and flavours, and a total pleasure to eat. Roasting the spuds and carrots to create the giant rösti really brings out their sweetness, and builds up a nice crunchy edge.
Ingredients
600g potatoes
3 large carrots
½ teaspoon Dijon mustard
½ a lemon
extra virgin olive oil
olive oil
100g frozen peas
100g baby spinach
4 large eggs
50g feta cheese
Method
Preheat the oven to 180ºC/350ºF/gas 4. Peel the potatoes and carrots, then coarsely grate them in a food processor or by hand on a box grater. Add a good pinch of salt, toss and scrunch it all together, then leave for 5 minutes. Meanwhile, mix the mustard, a good squeeze of lemon juice, and a couple of lugs of extra virgin olive oil with a little pinch of salt and pepper in a medium bowl and put aside.
Drizzle a really good lug of olive oil into a large bowl and add a good pinch of pepper. Handful by handful, squeeze the potato and carrot mixture to get rid of the excess salty liquid, then sprinkle into the bowl. Toss in the oil and pepper until well mixed, then evenly scatter it over a large oiled baking tray (roughly 30cm x 40cm). Roast for around 35 minutes, or until golden on top and super-crispy around the edges.
Meanwhile, blanch the peas for a minute in a large pan of boiling salted water, then scoop out, add to the bowl of dressing and pile the spinach on top. Just before your rösti is ready, with the water gently simmering, crack in the eggs, poach to your liking, then carefully remove with a slotted spoon. Serve the rösti with the eggs on top. Quickly toss the salad together to dress it and scatter in piles on the rösti, then crumble over the feta and serve. I like to whack it in the middle of the table and let everyone dig in.
---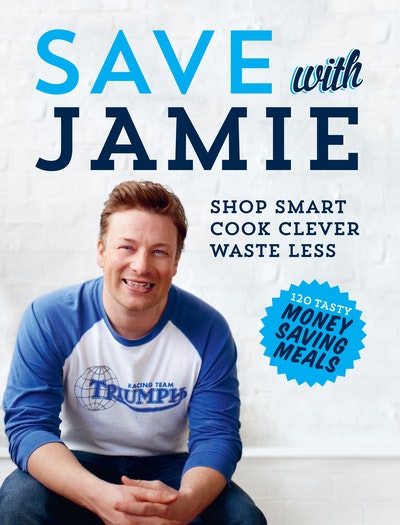 Jamie gets the nation cooking clever, shopping smart and wasting less
Buy now
Buy now
---