A tasty potato salad recipe from You Suck at Cooking.
This is not the kind of potato salad you want to bring to a funeral. A funeral is about paying respect to the dead. And this potato salad would be a disrespectful gesture because it would pull all of the attention away from the person who died and place it on the potato salad instead. You could try to sneak it in, play it down, disguise it as a mediocre potato salad, but don't. It's not worth the risk. Everyone will be upset about how good it tastes and about how the person you were supposed to be celebrating couldn't possibly live up to how good it looks. So save this one for a potluck, OK?
SERVES 6
1 tablespoon fine sea salt
680 g baby potatoes, halved or quartered
FOR THE DRESSING
4 spring onions, finely chopped
3 tablespoons olive oil
1 tablespoon red wine vinegar
1 tablespoon whole-grain mustard
1 teaspoon honey
FOR THE SALAD
4 medium dill pickles, diced
¾ cup chopped or sliced salami or sausage
In a large saucepan, add the salt, the potatoes, and enough water to cover them by 5 cm. Bring to a boil over high heat, then reduce the heat to medium and simmer for about 10 minutes, until fork-tender. Drain the potatoes and transfer them to a large bowl.
Meanwhile, make the dressing: In a small bowl, measuring cup, container, or mug, combine the spring onions, olive oil, red wine vinegar, whole-grain mustard, and honey and wangjangle.
Assemble the salad: Give the dressing a final wangjangling before you pour it onto the potatoes (or if you prefer, wongjongling works well for this dressing). Add the pickles and salami, and mix until well combined. Serve with the residual warmness of the potatoes or allow the salad to cool in the fridge first. It's good either way.
NOTES
When boiling potatoes, you have to trust the fork. The fork is the ultimate determiner of doneness, and once it slides through easily, the potatoes are done. Also, the potatoes will continue cooking from the residual heat once removed from the water, so "almost done" is often "done." Allowing the spring onions to soak in the dressing helps the spring onion-y flavor to pervade the dressing. You can also mash them against the side of your dressing vessel with a fork to really increase the spring onionness of the dressing. Don't confuse dressing spring onionness with The Dressing Spring Onioness, the most powerful and fierce spring onion in all of Dressingland. For a vegetarian version, simply pick out the bits of salami once the potato salad has cooled.
---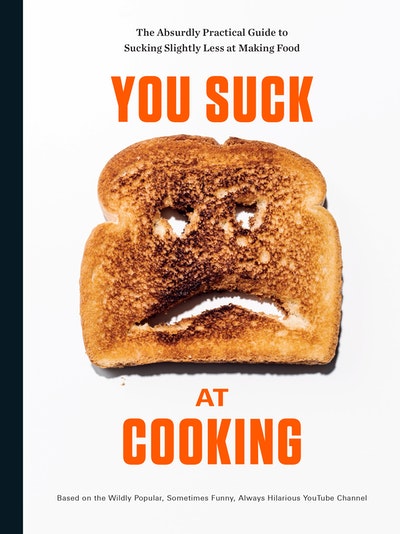 Do you crave food all the time? Do you think you might want to eat again in the future? Do you suck at cooking? Inspired by the wildly popular YouTube channel, these 60+ recipes will help you suck slightly less.
Buy now
Buy now
---