Fig season is now in full swing. Try this delicious, fibre-packed recipe from DK's Natural Baking.
Makes 1 26cm diameter cake. 
Ingredients:
120g dark muscovado sugar
160g apple puree
160ml almond milk
1 tbsp cider or red wine vinegar
1 tsp ground cinnamon
300g spelt flour, plus extra for dusting
100g ground hazelnuts or almonds
5 tsp baking powder
pinch of salt
7 figs (about 500-450g), stalks removed, cut into 7mm thick slices
vegetable oil, for the tin
coconut yoghurt, to serve
Method:
Preheat the oven to 180°C. In a bowl, briefly whisk the sugar, apple puree, almond milk, vinegar, and cinnamon using an electric whisk.
In a second bowl, combine the flour, hazelnuts, baking powder, and salt, taking care to mix thoroughly. Add the liquid ingredients to this bowl and mix everything swiftly until you have a smooth consistency.
Grease a springform tin (diameter 26cm) with oil and dust with the flour. Arrange the sliced figs on the base of the springform tin. Spread the cake mix over the top and bake in the centre of the oven for 30–35 minutes, until risen and golden brown. When an inserted wooden skewer comes out clean, the cake is ready. Remove the fig cake from the oven, leave to cool slightly, then release from the tin and leave to cool upside down on a wire rack. This goes beautifully with coconut yogurt.
Tip: You can also make this upside-down cake outside of fig season using halved apricots, plums, or slices of pear.
---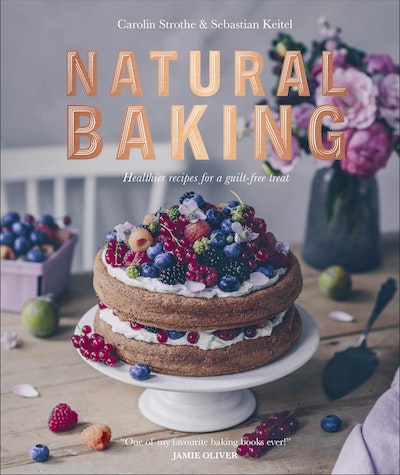 Natural Baking
Carolin Strothe & Sebastian Keitel
Discover how to bake more than 70 delicious low-sugar and sugar-free recipes
Buy now
Buy now
---