A heavenly pasta recipe from Jamie's Friday Night Feast Cookbook that's perfect finished with fresh truffle or nutmeg.
Homemade pasta, in a silky sauce of double cream, Parmesan and fresh truffle (or nutmeg, which is easier to get hold of and just as tasty!) is a well-known Italian dish that I cooked up for Goldie – she loves it! This is my take, swapping in some single cream to make it a little less naughty. Trust me, it's still a heavenly mouthful.
Goldie Hawn's Fettucine Alfredo
Serves 4
Total time: 45 minutes, plus resting
INGREDIENTS
½ quantity x Royal pasta dough
fine semolina, for dusting
150ml double cream
150ml single cream
1 large egg
60g Parmesan cheese, plus extra to serve
1 fresh truffle or 1 whole nutmeg, for grating
truffle oil
METHOD
Make the Royal pasta dough. Once it's relaxed for 30 minutes, roll the sheets out to 2mm thick. Set up the fettuccine attachment on your pasta machine and gently run through each pasta sheet, placing on a semolina-dusted tray as you go. Or, if making by hand, loosely roll up the pasta sheets, cut into strips just over ½cm wide, then use your fingertips to shake out and separate into strands.
When ready, cook the fettuccine in a large pan of boiling salted water for 1 to 2 minutes, or until al dente. Meanwhile, gently heat all the cream in a large frying pan on a low heat, then separate the egg and whisk the yolk into the pan (save the white for another day).
Finely grate and gently whisk in the Parmesan, then season with sea salt and black pepper.
Using tongs, drag the pasta straight into the sauce, taking a little cooking water with it. Toss together, adding extra splashes of cooking water to loosen into a lovely, silky sauce, if needed. Plate up with fine gratings of truffle or nutmeg and a good grating of Parmesan, drizzle with a little truffle oil and serve right away.
 
Calories: 612kcal
Fat: 38.5g
Sat Fat: 19.8g
Protein: 22.8g
Carbs: 44.7g
Sugar: 3g
Salt: 0.6g
Fibre: 1.7g
 
JAMIE'S FRIDAY NIGHT FEAST COOKBOOK BY JAMIE OLIVER IS PUBLISHED BY PENGUIN RANDOM HOUSE © JAMIE OLIVER ENTERPRISES LIMITED.
---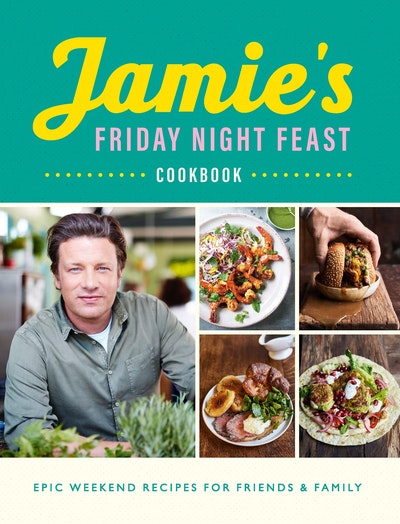 Cook up an epic feast for friends and family with Jamie Oliver's new cookbook, featuring the best of the best food from the hit TV series Jamie & Jimmy's Friday Night Feast.
Buy now
Buy now
---