Enjoy this decadent chocolate cupcake recipe from The Kookaburra Creek Café. 
As Alice re-hung the picture, a piece of paper fell down from behind the frame. A recipe for chocolate fudge cupcakes. Alice looked up to the woman now back in her place on the wall and could have sworn she saw the old duck wink at her.
Yep, she'd definitely lost her mind.
Reading through the ingredients, Alice checked the bags and the pantry. It was all there. She could try it, she supposed, even though she really ought to leave. But it did look pretty easy.
She looked back to the photo and tilted her head. She supposed, at an angle, with a slight squint, the funny old lady could have looked a bit like a Spinster Sister. Sally and Sue's long-lost cousin?
'You have lost the plot totally, Alice,' she said out loud, and reached for a bowl on the shelf beside her.
The voice inside her head tried to tell her again to leave, but as Alice measured out the ingredients it fell silent. She cracked the eggs, and the birds outside causing such a racket a moment earlier stopped their bickering. She whisked the batter and the whirr of the ancient fridge faded into nothing. All there was was the round beating of the whisk and the in and out of her breath. Nothing else. Cake batter. Breathing. Silence.

Sylvia's Chocolate Fudge Cupcakes 
Makes 24
INGREDIENTS
1¾ cups caster sugar
180g butter
200g dark chocolate
2 cups self-raising flour
½ cup cocoa
½ teaspoon vanilla paste
3 eggs
²⁄³ cup water
24 × 1cm squares of dark chocolate
For the frosting:
125g butter, soft
2½ cups icing sugar
½ cup cocoa
4 tablespoons milk
½ teaspoon vanilla paste
METHOD
Preheat oven to 180°C. Line cupcake tins with cupcake cases.
Place 200g chocolate, sugar and butter into a heat-proof bowl. Heat in microwave in 20-second bursts, stirring between, until chocolate is melted.
Place remaining ingredients into bowl of an electric mixer. Beat on low and gradually add melted chocolate mixture. Increase speed to medium and beat until combined.
Spoon into prepared cupcake tin. Push a square of dark chocolate into the centre of each cupcake.
Bake till cooked – when top of cupcake is lightly pressed and cake springs back (approx. 15 mins).
Cool.
To make the frosting, place all ingredients into the bowl of an electric mixer. Beat until combined, fluffy and lighter in colour.
Top cupcakes with chocolate frosting, piped in a swirl.
---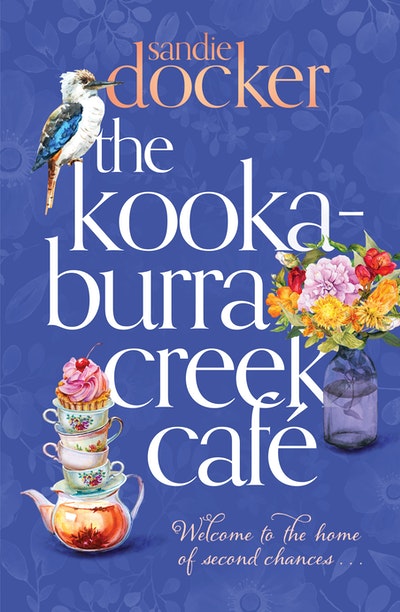 Heart-warming and charming women's fiction – the multi-generational story of three women in the small Australian town of Kookaburra Creek.
Buy now
Buy now
---