We caught up with Jessica Yu to learn more about her writing routine and the shortlist award that helped launch her career.
What was your writing process like for But the Girl? Did you have a writing routine or any regular rituals?
I wrote the bulk of my book during the 2020 and 2021 lockdowns. Most of my routine was literally waking up early, having breakfast and starting writing in my pajamas until it was not possible to continue. Early mornings are always most productive for me, and I try to protect my mornings for the sake of writing. Also part of my routine: long walks in the park with my greyhound, swimming (once lockdown was over) and a hard rule of taking Saturdays off. I find the rest and self-care aspects of my life to be as integral to my writing as the actual act of working on my manuscript. 
How did you first come up with the idea for the book? 
I got the idea for But the Girl after I woke up from a dream about an old and beautiful but decrepit old house in the middle of a forest that was flooding with water. 
In the dream, I was trying to escape but I couldn't. Also in the dream, I started writing pages and pages about this place and was very inspired by it.
Up until this point, I had reached an impasse in the writing of my novel where I felt like it didn't accurately represent how I felt about or saw the world anymore. The first version of my manuscript was completed as part of my PhD and this second version, which was so different yet very connected, suddenly felt extremely necessary and possible because of the dream.
What was your big break into publishing?
I don't know if I had a big break, but there were lots of people who were very influential in supporting my work. 
Lisa Dempster programmed me at the 2015 Melbourne Writers Festival when I was only twenty-two as part of a '30 under 30 'showcase. Around that time, I had been on a few longlists and won some residencies, so publishers and agents had begun contacting me. 
But at that age and stage of my life, I didn't feel I was ready to publish a book. It took until 2021 before I signed with an agent after being shortlisted for the Victorian Premier's Literary Awards (VPLA) for an unpublished manuscript. Of course, having my books acquired has been the best thing. 
How long have you been working on this book?
I've been working on versions of this book since maybe 2017 – around the time I began my PhD. I had been trying to write a novel for a long time and failing. Maria Tumarkin was my supervisor, and honestly, meeting her and being taught by her changed things for me. She encouraged me a lot and drove me forward.
What was the publishing process like (finding an agent, submitting manuscripts, etc.)?
Being shortlisted for the VPLA meant a bunch of editors and agents got in touch with me. But I was introduced to my agent by another writer, and that was very helpful. From there, my agent sent out my manuscript and the book went to auction. I ended up with a two-book deal with Cape and PRH. It was exciting and scary and amazing all at once.
What most excites you about your book being published in 2023?
I think I'm excited about readers hopefully seeing themselves in this book: the characters, settings, family dynamics etc. That's my great hope. 
Do you have a favourite book or author?
Zadie Smith, Tove Ditlevsen, Min Jin Lee, Elif Batuman, Ocean Vuong, Mary Jean Chan, Natasha Trethewey, Claudia Rankine, Katie Kitamura, Brandon Taylor, Helen Garner and Maria Tumarkin. And I'll never stop being obsessed with Mansfield Park by Jane Austen. 
What inspired you to become a writer?
The pleasure of reading and the books I was reading as a child. Little Women, Anne of Green Gables, Chronicles of Narnia, Secret Seven etc. 
What did you want to be when you grew up and why?
I wanted to be a writer and an academic since I was a kid. I wanted to be a writer because I loved reading. And I wanted to get a PhD and become an academic because my older brother (who is 11 years my senior) was pursuing one, and I couldn't be outdone by him.
If you could go back in time and give your past self one piece of advice, what would it be and why?
I'd probably tell myself to play an organised sport. I would have liked tennis or fencing. I've always wanted to learn how to fence, but it's too late now. 
What is the best writing lesson/ tip you ever received?
Write about whatever is stopping you from writing. Write your way through creative blockage and don't resist it. Maria told me that and it helped.
Is your interest piqued? Start reading But the Girl, here!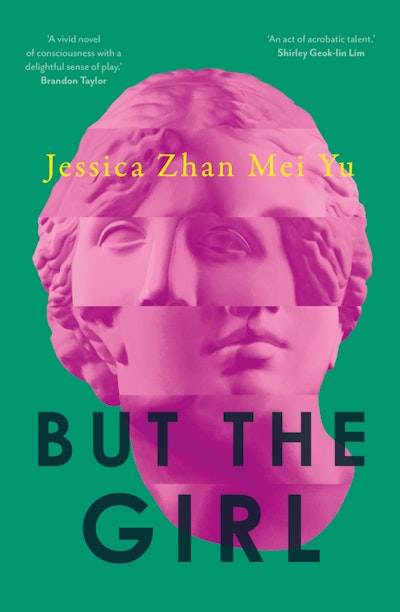 But the Girl
But the Girl is a wry and razor-sharp coming-of-age novel about belonging, alienation, and the exquisite pleasure and pain of girlhood, for readers of The Idiot by Elif Batuman and Crying in H Mart by Michelle Zauner.
Read more