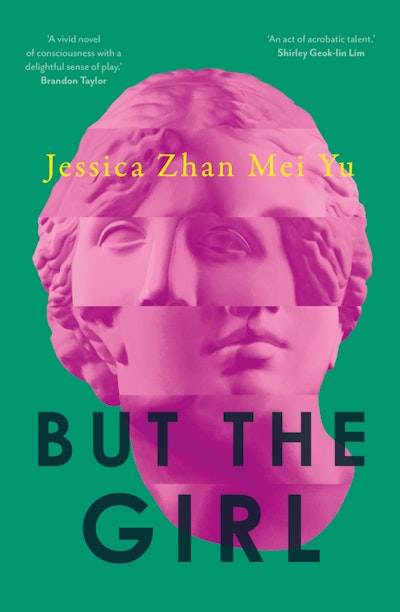 Published:

1 August 2023

ISBN:

9781761046148

Imprint:

Hamish Hamilton

Format:

Trade Paperback

Pages:

224

RRP:

$32.99
But the Girl
'A wonderful new novel' Brandon Taylor
Extract
It was an undecided and hazy spring, the spring that MAS370 disappeared, and I didn't know what I was doing in London.
Everyone kept asking me what had happened to the plane. I had become an unintentional figurehead for Malaysia Airlines. I was Australian (at least that's what it said on my blue passport) but my parents were Malaysian (red passport). And I looked like I knew something about it.
I wished I did. All I knew was that I was lost and probably wasting my time here.
I had been against Australia remaining a Commonwealth country and opposed to the British monarchy until I received a Commonwealth scholarship from a philanthropic organisation that had been set up in 1926 by King George V. The scholarship invited me to travel to London for a week to be 'enriched by culture' and then to Arbroath in Scotland for a month-long artist residency. Then I was going back to London to present my work at a postcolonial literature conference. Now I liked the Commonwealth and I decided that the idea of the monarchy was a mysterious and seductive one like religion or a beautiful stranger on a bus.
A man named Leon had been the one to email me telling me I'd been awarded the scholarship. I hadn't applied for it and I wasn't used to things appearing out of nowhere so at first I thought it was a scam. But then he had called me on the landline at home and he seemed real. He told me he was the arts manager at a philanthropic society in England that had been set up to lend Commonwealth countries a helping hand. He said that they had read some of my writing in magazines and such and liked it and that usually these scholarships were for visual artists but there was some interest in gradually introducing writers into the programme and did I have any projects I was working on just now? I told him I was enrolled in an English PhD programme here but I had always wanted to write a novel, a postcolonial novel, I added, to make it sound more legitimate.
Leon said I could choose the flight and he would book it. I took full advantage and chose a good airline at a cost I wouldn't have been able to pay myself. He told me it needed to be cheaper. So I chose a budget flight but he told me he couldn't be liable for what might happen on a Smart Wings transfer flight. In the end, the only flight that fit his criteria was a Malaysia Airlines flight, which was a proper airline but heavily discounted because no one wanted to disappear.
The transit flight to Kuala Lumpur was completely empty. I spread out across three seats and lay down to sleep. When I got to KL airport, I bought a copy of the Star which didn't mention anything about MAS370. It was as if it had never happened. Ikanyu had told me he thought the gomen knew more than they would ever let on. Of course, before this everyone had thought that planes couldn't disappear. But now that it had happened, it felt like if it was to disappear from anywhere it would be Malaysia. I supposed this was why Ma and Ikanyu and Ah Ma had immigrated in the first place. I knew that Ma had been heavily pregnant with me when she got on the flight. She said she'd held on tight to her pelvic muscles to keep me in until they got to Australia. I was born the day after they arrived. Her extreme willpower meant that I got the passport but I'd never quite got away from Malaysia, and I didn't know whether I wanted to or not.
The plane to London began to toss and turn like an insomniac and our food trays slid back and forth. Our chairs rattled like we were on a rollercoaster and a redundant turbulence announcement came on. The old man next to me yelped while the boy on my other side held onto his armrests. I could tell they were worried we would disappear. As always when something went wrong, I sat very still and did nothing. I thought about disappearing. It sounded quite pleasant to me.
'You're fine there, are you?' the man said.
'Yep,' I said.'It's the Australian in you. Tough outback stuff.
'I'd never been called Australian before. It was nice. The last time I had really thought of myself as Australian had been in grade one. It was play lunch. There were these older girls sitting in the crotch of the big tree. We called it the Paper Tree because of its soft, tearable bark. Ugly sunburnt skin on the outside, but when you peeled it off, it showed a secret peach colour. They told me to come play with them. Their faces were smooth as stones. They asked me what I was. When I told them I was Australian, they told me no. Then they sang a strange song that I had never heard before: ching chong ching chong. They dragged the skin at their eyes back, till their eyes were cuts. They asked me to drag the skin of my eyes back and I did it. They laughed and I laughed because it was funny and we were all good friends now. The weather was warm and the sun was gold and I. I was happy.
Much later on Ma told me that when I was young, I thought I was white. I didn't want to be white or anything like that. I just thought that was what I was because I knew I was real. I knew I was real and not made up because sometimes I tested it. Sometimes I bit my lip till blood came out and when the saltine pain came, I knew that I was non-fiction.
I took the tube from Heathrow to Green Park station. Green Park had deckchairs laid out and people were sunning themselves even though it was twelve degrees and looking like rain. I had only seen London in movies and I was pleased to see it looked and felt the exact same in person as it did on screen: grim and beautiful. This probably meant that I wasn't looking hard enough, but I was so tired of being clever. I was born clever because Ma was very sharp and shrewd and Ikanyu was very thoughtful and deliberate and they had passed these qualities on to me. And like immigrants everywhere they played without sheet music or instruments; every song they sang was improvised from start to finish. So, I had that too, a certain kind of freedom. It was the only real resource I had been born with and I exploited it fully. But I was starting to get sick of grinding my bones back into the dust to win scholarships and prizes and money and an existence. I was ready to enjoy the newborn pleasure of knowing nothing.
The philanthropic society's clubhouse looked right onto Green Park. I knew from the pamphlet Leon had sent me before I arrived that it was a Georgian building with yellow bricks. Rusticated quoins darted up and down the sides. I loved that new word: quoin. There was a cartouche that showed two angels holding up a globe with a ship sailing across it and, as if that wasn't enough, it had a festoon made of fruit and foliage dripping off of it. I walked up what I would have called the front steps but I now knew was a portico and peered at the Ionic columns with their scrolling acanthus leaves. According to the guide, they meant eternal life, as well as sin and pain and punishment. That seemed to me like a lot of symbolic pressure for a thorny leaf.
I was directed to my room and discovered it contained crystallised ginger biscuits on a plate with scalloped edges and a teapot and a pen and a white dressing gown and letter-writing paper embossed with the crest I had seen on the cartouche. That made me happy. The long trip had caused a mysterious problem with my back to play up again. It was stiff and sore from sitting on the plane and I massaged the places that burned bright with pain. Then I fell asleep.
When I woke up, I had an email from Leon asking me to meet him in the clubhouse's foyer. He arrived in rolled-up shirtsleeves and the kind of linen shirt that is very nice when initially put on but gets so creased it becomes three-dimensional in places after a day's wear.'How was the flight?'
'It was great.' I tried to smile. Scholarships beget scholarships so this wasn't the first time I'd been given something. One thing I knew about being a scholarship girl is that it is important to simulate delight at everything you'd received. This is the exchange you make: your facial expressions for their funding.
'Very good. Blessing can't make it yet; he's still stuck in Johannesburg. He'll join you in Arbroath. Jack had a terrible time, by the sounds of it. He got sick and vomited for all twenty-four hours of his flight from Wellington. We'll see him tomorrow hopefully. Here is your per diem,' he said, handing me an envelope of notes.
I knew he had to give these to me at some point and it wasn't as if it was his money. But the timing (my gratitude contrasted with Jack's illness) obliquely confirmed to me what I had thought all along: that gratitude made me a good scholarship girl.
'Anyway, I can show you round tomorrow afternoon. I thought we'd go to the Tate Modern. Same spot at two?'
'Great.'
I woke up the next morning and went downstairs for breakfast. It was explained to me that cold breakfast items as well as toast and tea were free. But I would have to pay for anything hot. Apart from breakfast, I could go up to the Princess Maud room and have one meal with one drink a day on their tab. I had never ordered a drink at a restaurant before. My parents had only ever wanted to pay for solids and because of that I was the same. I took a tablespoon of every kind of cereal and muesli they had out and put it in a bowl with some milk and yoghurt. Then I ordered some toast and tea. The toast came with a rack of ten tiny jams in ten tiny jars which I stole after I was done. And then I put some fruit and rolls into my bag for lunch. After this, I had to decide what I wanted to do with my morning.
The clubhouse had a library and I was supposed to be sitting in it writing a postcolonial novel (at least that was what me and Leon had agreed I would do while I was here) or maybe keep going on my dissertation. I had ostensibly taken a year's leave of absence from my English PhD programme to write my novel. But no one who takes time off their PhD actually forgets about it – they keep working on their research secretly while pretending they are flittering around being on leave. That was what I was doing.
And because I was always so full of guilt, in addition to the novel and the thesis, I was also writing a paper to present at a postcolonial conference that happened to run in London at the end of my time here. I felt guilt all the time in those days. I felt guilt when I worked on my PhD because I had been brought over to work on my novel. And I felt guilt when I worked on my novel because what was a pointless thing like a novel compared to a doctorate thesis? I felt guilt because whatever I worked on, I was taking the easy way out. Therapists were always saying guilt was not a useful emotion but I found it to be an extremely helpful one – guilt was the sticky, sweet, heavily carbonated energy drink that helped me power through each task, to keep going. I kept working and working – to what end, I didn't know.
At least that was what it usually did for me. I moved my body from my bedroom to the library but once I got there my body swerved towards a staircase and ran downstairs of its own accord. It kept moving and moving until I ended up on Oxford Street. I spent all of the time and per diem they gave me there shopping for clothes. I loved clothes and London had a lot of them. I was a lot more frivolous than people realised and I frequently made the mistake of thinking changing my clothes could change my life. I had wanted very much to be a model when I was a teenager. I wanted to be discovered while I window shopped in my school uniform like Naomi Campbell or in an airport like Kate Moss. I had starved myself sometimes but it was no use. I was too short, and I had the wrong face anyway.
I only spent the money I'd been given, though. I was born to immigrant parents who had me at the hospital the second they were in Australia, which is another way of saying I was born financially anxious. It's impossible to explain this to someone who wasn't. This was always what had been so hard about being with my friends at university who never seemed to worry about money at all. They thought talking about money was crass because they had never had to think about it. I could never afford their respectability.
Perhaps this was why I felt so guilty about the shopping. That whole week, I would buy clothes on Oxford Street and feel beautiful for a moment and then I would hate myself for my lack of self-control and shove them under my hotel bed like a bad feeling. Every night I hid my new clothes under the bed so I could sleep. And every day when I returned to my room someone would have come into my room and the clothes and also the towels and bathrobe and sheets would be folded perfectly and hung, and the teapot and cups cleaned and replaced. No matter what shape I'd left the room in. It was the magic of hotels. Even the embarrassment of being cleaned up after, the kind of thing Ah Ma would do conspicuously in front of me, so I knew how disgusting and lazy I was, even this happened invisibly while you were gone at a hotel. So you could avoid both the drudgery of cleaning up after yourself and the shame of someone else cleaning up after you, and calling it love.
My Ah Ma told me all the time that she loved me. Though I don't know if you would call 'love' what she called 'love'. 'Love' is such a promiscuous, easy word in English. The 'love' in I love tomatoes is the same 'love' in to love and to cherish, until we are parted by death. It's strange and unnatural to say that unsayable word in Chinese unless you are a crying actress in a soap opera or a pop star with a new single to promote. Love is expressed in Chinese the way a poet writes about flowers – slantwise, in riddles, in rhymes, coyly. You have to read between the lines, be an intelligent interpreter of literature, to really understand it. Sometimes you have to read against the grain of the author's intention and sometimes you think you're crazy for imagining that love is even there. So, it's hard to explain what I mean when I say she loved me – or as she said when she was especially angry at me – she sayang me.
I remember feeling the empty 'oh' of loss and recognition when a teacher in primary school asked us to describe our grandmothers. This was the kind of masak-masak that my parents said happened in Australian schools. Sitting around talking about grandmothers when there was real work to be done. Taylor, a girl who was more freckle than skin, said that her grandmother made the best apple crumble. And then a boy I don't remember much more of said something about lemon drizzle cake. And another girl mentioned honey joys. Foods with childish but lovely names that sounded like a person was eating the sun. And I wondered why my grandmother had never so much as opened the oven in our house. She certainly hadn't made anything with a silly, careless name like drizzle or crumble or joy.
When Ah Ma really cooked it was a long and bloody affair. For New Year's Eve, she bought a live duck, and killed and drained it in the backyard. The next day she sat on the cement steps of our backyard plucking the feathers off one by one. Her day- to- day cooking was inevitably fried over a huge greasy pan on the gas stove in the backyard that blew out an ugly smog that choked you. As she cooked, she opened her fist and gave me Spam sliced up and fried as a snack. Campbell's Chicken Soup boiled over the big fire with chopped-up frankfurters floating along inside it. Fried ikan-bilis with peanuts and sambal so spicy that just the smell made me cry.
Ah Ma was not the benign, cotton-wool-haired grandmothers of the other kids. She didn't knit scarves or bake cookies or whatever other aesthetically pleasing and completely unnecessary housework they did. She pulled weeds out of the ground with her hands, the wrinkles in her palms caked with black dirt; swept up the flame-like petals of the magnolia tree as they decorated the grass and threw their beauty into the red bin; knelt down onto the wooden floors and washed them with a rag cloth; ironed shirts with mathematical precision; burned rubbish; pulled clean clothes out of my cupboard to wash them; gossiped about my mother on the phone to whoever would listen; watched TV covertly when she was sure that my parents were out for a while; basically did everything a live-in maid from the middle of Malaysia would do, which is what she had been for most of her adult life. Ma told me that she had tried to tell Ah Ma that she no longer had to earn her bowl of rice, but she didn't believe her. She told me and anyone who would listen that my mother oppressed her, used her as free labour and held her housework to impossible and irrational standards, essentially she thought that my mother had made her life hell. She believed that she was still a kind of servant; of the house but not in it, essential to our lives but peripheral to them. She still didn't really know how much she meant to me even now – a second mother, a third parent, a thorn in my flesh that I would never remove.
She was a hard, brown-skinned woman with a bad temper. Her stamina for anger made me think of Eliud Kipchoge. Her focus and motivation made the mental and physical discipline of bitterness feel like an athletic feat. She would get so angry with me sometimes that she would scream at me for hours. But she never stopped the housework for me – she would rant and rave while washing the dishes I had dirtied, hanging the clothes I had worn and pulling the weeds from the grass that I played on. If I ran inside the house to avoid her, quietly sliding the glass door behind me, she would scream louder so that I would still be able to hear her, and the neighbours too. Sometimes she wasn't angry with me – it was Ma or, occasionally, Ikanyu that she was screaming about. But she still wanted me to hear her.
Sometimes I made her laugh. I was a kid, after all. But she felt that showing me her smile was like going out naked. As the laugh faded from her face she told me that she would punch me in the face and then I would know. This knowledge she was always trying to thrust onto me – what was it? An understanding of how the world's hard face wouldn't soften for me or something like it perhaps. She would laugh and laugh and then she would threaten to hit me and I would know that I was her favourite thing in all the world.
Being old and having worked too much, she was always in some kind of pain. She had gout which swelled her feet and legs, so they glowed with a raw shiny hurt. She had arthritis in her hands which made the housework she did every day a ritualised torture. She had a heart condition which made her clutch her chest when we walked to the supermarket. She had slipped and fallen once while washing the driveway with soap and water and blood had unspooled from her brain. She applied pain to her pain like a balm as she scrubbed her hands raw with a thick brush and soap to get the brown colour off. She took a kitchen knife to the balls of her feet to remove the hard grey skin. I would walk into her bedroom after dinner and find her cutting at her feet, bleeding in her bedsheets, and watching Burke's Backyard. She grimaced but she never said anything because she was afraid of hospitals and doctors and death. She was kiann-sí.
The orchids were the only thing she really loved. But they almost never had the chance to bloom because she pruned them every day, lovingly cutting them back to nothing. Twenty-six black plastic pots that only sprouted long, green leaves all year round. If I played outside, she would hover around me, telling me not to go near them. They were a kind of dangerous magic, the orchids. Anything could happen around them.
There was only one year that I remember them blooming. I was six in Australian years. Seven in Chinese years, as Ah Ma would say. A single string of white orchids with a streak of dried blood in the middle. I wanted them so badly, but I left them alone like she said to. I lay outside on the grass instead, watching the sky while she hung clothes on the line, but she told me I would get my clothes and hair all dirty and then who would be the one to get in trouble with Ma? Who would be the one to have to wash them? Har? Har? I tried to help with putting the washing on the line but she told me I didn't know how to do it right. She rearranged the clothes I had put up so that the underwear and bras were better hidden by the bigger items – shirts and pants and towels. I ran inside and began pulling tissues out of the box on the coffee table, ripping them up and shaping them to make them into airy, white, tiny sets of clothing – day dresses and slips and gowns. They were beautiful. I loved clothes from such a young age and the beautiful women in the magazines who wore them. I saw them as a portal to another world that I would enter when I was grown.
Ah Ma came back in the house with an empty basket. She looked for me and found me sitting on the floor by the coffee table with my 'clothes'. I looked up at her and that's when I saw the mess I had made. Tissue-paper fragments had fallen everywhere like new snow, and I knew I wouldn't get away with it.
She came over and ripped up the clothes I had made, screaming about how she had turned away for only a second and already I had made the house look like kiâm-tshài and who would pay for it? Her. I was crying because she was always ruining everything. And then she began cleaning up the mess I had made ostentatiously as if to show me how much my very existence oppressed her. That was it. I ran to the garden and there were the white orchids looking at me. I took them into my hands and ripped them up into tiny pieces except one which I saved and wore in my hair like a woman from a shampoo advertisement. I looked into the mirror of the glass sliding door, admiring myself, when my reflection darkened and disappeared. Ah Ma snatched the door open and in her hand was her skinniest and longest bamboo tîn-á. Skinny for speed and long for reaching my body as I ran. I ran and ran and ran all over the garden while she chased me and then I was backed up against the gate. I opened the gate to the front yard and ran onto the street and then the road. She was screaming my name and her brown skin had turned grey. A car skimmed past me and then another was honking at me – a sonic 'no' that terrified me. I ran back into the backyard and Ah Ma locked the gate while I cried. And then, as tired out as we both were, she still found it in her heart to beat me. I sayang you, she was saying as she did. You might think I hate you when I hit you. No. I sayang you.
---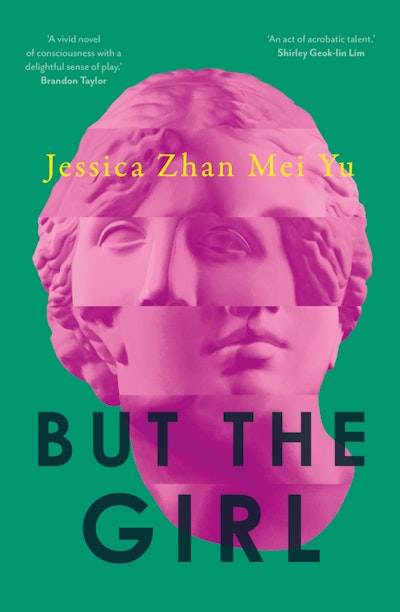 But the Girl is a wry and razor-sharp coming-of-age novel about belonging, alienation, and the exquisite pleasure and pain of girlhood, for readers of The Idiot by Elif Batuman and Crying in H Mart by Michelle Zauner.
Buy now
Buy now
---