Plus find out how her sister inspired Ink Blood Sister Scribe and what she's looking forward to most about being published in 2023.
What was your writing process like for Ink Blood Sister Scribe? Did you have a writing routine or any regular rituals?
I always write in the mornings, with a cup of coffee or two, and I don't eat until I'm done writing for the day. That means some days I don't eat until three or four, and then I have a feast and am useless for hours, like a snake. Sometimes I write in coffee shops; sometimes at home. I also take long walks and record myself on voice notes talking through plot problems, though I pretend I'm talking on the phone so my neighbours don't worry I've lost it. 
How did you first come up with the idea for the book? 
The book came together slowly; I wrote my way into it. The only thing I knew for sure from the get-go is that I wanted to write a book about magical sisters because my own sister had been begging me to do so since we were very young. The rest kind of blossomed from there. 
What was your big break into publishing?
This novel!
How long have you been working on this book?
It took me two years to write, and then once I sold it, another year or so to edit with my editors. 
What was the publishing process like (finding an agent, submitting manuscripts, etc.)?
I published short stories for years before writing a novel and was lucky enough to find my agent via a story I published back in 2013. She reached out to me and waited years for my first novel, which, incidentally, was not Ink Blood Sister Scribe! I wrote another novel – literary realism – and it didn't sell. It took me another five years to write my second novel. With the wisdom of hindsight, I'm very glad the first book didn't go anywhere, because I wasn't proud of it, and I'm very proud of Ink Blood Sister Scribe.  
What most excites you about your book being published in 2023? 
I'm really excited about the translations and international sales! It's absolutely wild to imagine people around the world reading something I wrote in my little home office in Minnesota, in the isolated space of the pandemic, with only my cat and housemates as witnesses. 
Do you have a favourite book or author?
Far, far too many to commit to one, but ten favourites in no order are: Fingersmith by Sarah Waters, The Vanished Birds by Simon Jimenez, The Idiot by Elif Batuman, Piranesi by Susanna Clarke, Tender by Sofia Samatar, The Three Musketeers by Alexandre Dumas, The Golden Compass by Philip Pullman, A Manual for Cleaning Women by Lucia Berlin, Priestdaddy by Patricia Lockwood, and Giovanni's Room by James Baldwin. 
What inspired you to become a writer?
Perhaps this answer is too simple, but it's always been my love of reading that's driven me to want to write. 
What did you want to be when you grew up and why?
The truth is, writing novels has always been my biggest dream. I've wanted to be a writer since I learned to read. 
If you could go back in time and give your past self one piece of advice, what would it be and why?
Go to therapy! LOL. 
What is the best writing lesson/ tip you ever received? 
From my professor and now-colleague, Peter Bognanni: 'The best books are both funny and sad.'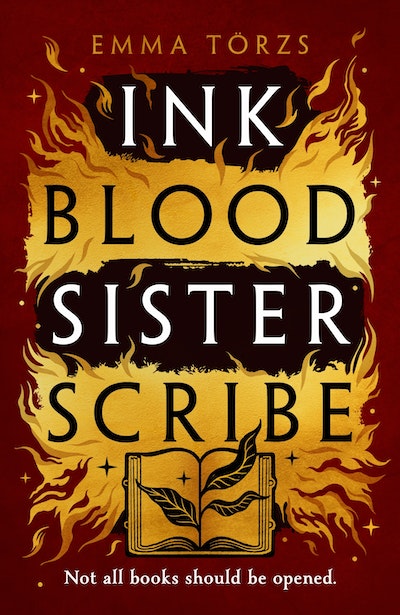 Ink Blood Sister Scribe
A spellbinding, edge-of your seat thriller, INK BLOOD SISTER SCRIBE follows a family tasked with guarding a trove of magical but deadly books, and the shadowy organisation that will do anything to get them back . . . even murder.
Read more