Rockstar Detectives is out now at your local bookshop.
What was your inspiration for writing Rockstar Detectives?
I was chatting to my daughter about what she wanted to be when she grew up, and she said, 'Either a rock star or a detective.' I thought that sounded like a great idea for a book, and the story kinda sprung from there. My daughter, who was eight at the time, was devouring the Murder Most Unladylike series by Robin Stevens series, so I thought I'd try to combine her two vocations into one.
Where did the characters of Charley and George come from?
Charley is very much like my eldest, who is now twelve: stylish, capable, musically talented, and very smart. George was kinda based on me – a nerdy kid with a disability, who wants to be a comedian. However, I've come to realise that George is also very much like my youngest daughter, who is now eight herself. She loves comedy, loves being funny, and will always go for the laugh in any situation. I've had to spend a lot of time away from my kids over the past two years, and I think I've spent time with Charley and George as a substitute for my own kids. To be honest, I've grown to enjoy their company. 
What qualities make Charley and George a good detective duo?
Charley and George are a good duo in every sense, not just as detectives. They're both smart, with great senses of humour. They complement each other really well in their career too – Charley has the singing talent and George has the social media smarts to take her songs to the world. They also believe in each other's talents. As detectives, they are both outsiders, which makes them good observers. They're both curious, and not afraid to be proactive. Charley is creative and has great instincts, while George is analytical and diligent, so in that way they complement each other as investigators as well as friends. 
Have you ever solved a mystery? Do you think you'd make a good detective?
Once when I was a kid I was convinced I'd found a bullet in the street, so I convinced the other kids to help me spy on our neighbours to find out what was going on. Not only did we not see anything suspicious, it turned out the object wasn't even a bullet. There is absolutely no way I'd be as capable as Charley and George at solving a mystery. When I was young, I couldn't even find a mystery!
Where do you write?
I write wherever I can, but I find I write best in public. Whether on a train or in a cafe, for some reason I find I can zone out the outside world and concentrate on writing when there is background noise and chatter around me. Rockstar Detectives was written in a variety of places - in a hotel lobby in Birmingham, on a train from Amsterdam to London, in hotel quarantine in Sydney and Melbourne. In fact, the four weeks I spent in hotel quarantine was like an enforced writer's retreat!  
Who's the first person you share your writing with?
At first I would share my writing with my daughter, and she was really enjoying it, but whenever I made a change to the story she got really grumpy. I don't think she understood the editing process and she didn't like it when I messed with what was in her head. Eventually I suggested she should read it all when it was finished. I did ask her advice on a lot of plot points, and she is very excited to read the final product. Aside from her, my editor is the first person to see my work. 
What was it like seeing your characters brought to life by Luna Valentine's illustrations?
Oh my goodness, Luna's illustrations gave me a whole new understanding of the characters. Seeing how she interpreted my words made me realise what the characters looked like to other people, and it brought out more of their personality traits. Luna has done such an incredible job of bringing the characters to life, and if the book is in any way successful it will be due in a huge way to what Luna has brought to it. 
What were your favourite books growing up?
I loved anything funny. I have fond memories of an author called Paul Zindel when I was in my early teens. I found his books in our school library and devoured them. Titles like Confessions of a Teenage Baboon and The Undertaker's Gone Bananas really jumped out at me. I can't really remember what the books were about now, but I remember the effect the comedy in his books had on me. I thought about him a lot when I was writing Rockstar Detectives. 
Who's a rockstar in your eyes?
My wife is a rockstar in my eyes. She's an opera singer and a cabaret star, she programmes variety shows, and has created an opera. In amongst all this, she has raised our two daughters for the better part of this pandemic while I've been in the UK making The Last Leg. She also makes her own pottery and is a sensational cook. She's kinda got it all. And if there was a mystery, she'd probably be the one to work it out. 
What's next for Charley and George?
I've already started writing a second story, in which Charley and George are making a film in Australia. I don't want to give too much away, but once again their detective skills are called upon to solve some pretty shady goings-on behind the scenes of their first ever movie. In many ways Rockstar Detectives was a bit of a love letter to my current home of London, and this second book will be a love letter to my original hometown of Sydney. 
---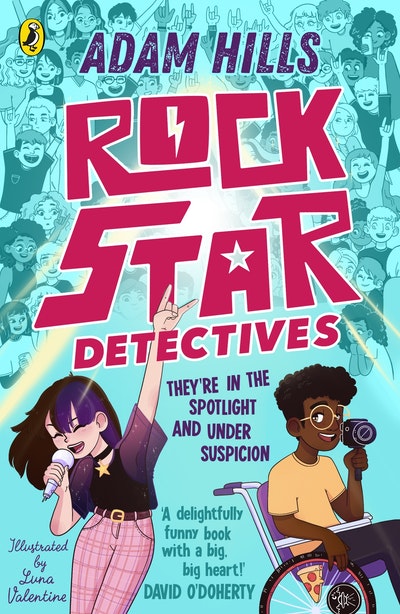 A fabulously funny debut novel from comedian Adam Hills featuring a young detective dream team, perfect for fans of Sharna Jackson, Robin Stevens, David Baddiel and David O'Doherty.
Buy now
Buy now
---