The Funny Thing About Norman Foreman author on grief, happiness and her favourite comedy legend.
What inspired you to write The Funny Thing about Norman Foreman? Where did the idea come from? 
I've always been drawn to the 'outsiders' of life, because they're the ones with the interesting stories. When an unusual, comedy-obsessed boy called Norman arrived in my head, I started wondering how it would feel to want to do something you loved so much, but know that you weren't actually any good at it. I knew that as a couple of outsiders Sadie and Norman Foreman were going to have to be each other's heroes, but their real journey was going to be in discovering the depth of their own courage. Even though both of them have to face such sadness, I wanted it to be a hopeful story, because I think hope is such a powerful catalyst for happiness.
The novel is about the comedy scene and concludes at the Edinburgh Fringe. Despite this, the novel is just as much about loss as it is humour. What compelled you to write a funny book about grief? 
Grief and happiness are both such strong emotions and perhaps not as different from each as we might imagine. I've always had this idea when a person has to go through something utterly devastating in their life, somewhere along the line the universe will try to make amends by presenting them with something wonderful. But grief can be so overwhelming that it becomes impossible to be open to the good stuff, so I asked myself: what if the worst thing that ever happened to you could actually lead you to the best time of your life? There's so much conflict and hope wrapped up in that question and I absolutely loved where finding the answer took me.  
We know that writing articles is your day job but Norman Foreman is your debut novel. What advice would you give to someone wanting to find their voice as a novelist? 
Like many other authors my first published novel isn't actually the first I've written and I have quite the collection of unfinished stories on my hard drive! But the difference is that I fell in love with Norman and Sadie's story so much that my desire to push through and finish it was stronger than the temptation to stop. So I think for anyone who wants to write a novel, you have to create the time and space to listen to the story your heart is telling you – and then write the book that nobody else but you could write.  
What books and authors have inspired you? 
The books that truly move me are the ones defined by the simplicity of their writing and the complexity of their observations. I'm drawn to authors who I think achieve this so brilliantly; people like Nick Hornby, Roddy Doyle, Anne Enright, Tony Parsons, Marian Keyes and David Nicholls. Three books that will never fall out of my top ten and that continue to inspire me are Man and Boy (Tony Parsons), How to Be Good (Nick Hornby) and One Day (David Nicholls).  
There are so many amazing characters in this book. Other than Sadie and Norman, who would you say is your favourite character? 
I love them all and it was so much fun developing them. But I've probably got the biggest soft spot for Leonard, because apart from the fact that other than Sadie and Norman he's the one I spent most time with, there's so much more to his story than ever made it into the book. I hope that I'm as cheeky, resilient and curious as Leonard when I hit my eighties!  
Norman desperately wants to be a comedian and is inspired by several comedy legends, who is your favourite comedian of all time?  
Not surprisingly, most of those comedy legends that Norman loves so much are very close to my heart as well. But my all time favourite is the late Dave Allen, one of the greatest observational comedians ever, in my opinion. I remember watching him on TV as a child, and while I'm quite sure I didn't understand his satire at the time, his cheeky 'Irishness' and absolute irreverence had me enthralled at first sight. Most of all though, he always struck me as such a gentleman.  
---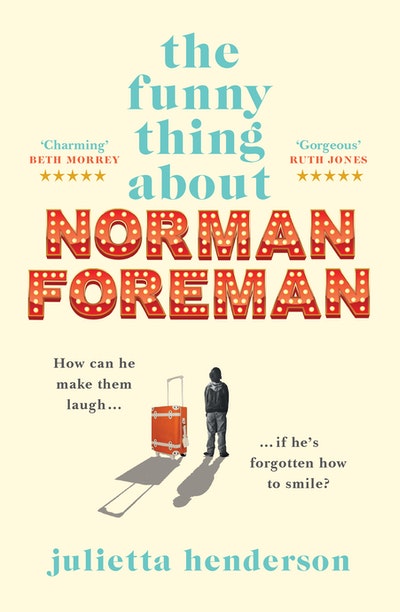 The Funny Thing About Norman Foreman is an inspiring, feel-good novel about a small boy with a big heart, a woman who would do anything for her son, and a journey that will change their lives ...
Buy now
Buy now
---