The Sisters Grimm author answers our questions about storytelling, life and inspiration.
Tell us something surprising about yourself?
I've had several brushes with death. In Oxford a chimney stack fell on me. I had a massive blood clot at 21 years old. I was pulled out to sea by currents in Costa Rica.
I live in a family of multiple surnames – mine, my husband's, my kids' – all (intentionally) different.
When I met my husband (we were both teenagers) neither of us spoke each other's languages. We communicated physically and via a pocket translator. When we married nine months later (I'd proposed to him two months after we met) we still communicated mostly through the medium of the letter and the kiss.
I've travelled the world in search of superb chocolate. I spent a long weekend in Paris eating nothing but chocolate – from all the best chocolatiers.
My husband started training as an alternative medicine practitioner (EEM) to help me with my post-natal hormonal imbalances and sudden chronic insomnia (that, after eighteen months, was taking me to the edge of insanity) and it had such an impact (after all traditional medicines failed) that he's now a qualified practitioner.
Tell us about the emotional truths at the heart of The Sisters Grimm.
The Sisters Grimm gives us psychological truths cloaked in fairytale magic, to reveal the ultimate message of empowerment. These sisters must transcend their mothers and kill their father to realise the full force of their innate powers. One cannot help but give a triumphant whoop! when these sisters overcome their doubts and self-limitations to claim the fruits of their hard-won victory.
There are hundreds, possibly thousands of sisters Grimm on Earth. You may well be one of them, though you might never know it. You think you're ordinary. You never suspect that you're stronger than you seem, braver than you feel or greater than you imagine. But I hope that by the time you finish this tale, you'll start listening to the whispers that speak of unknown things, the signs that point in unseen directions, the nudges that suggest unimagined possibilities. This is the tale of four sisters Grimm – daughters born to different mothers on the same day, each born of bright-white wishing and black-edged desire. They found each other at eight, were separated at thirteen and now, at nearly eighteen, must find each other again in the cities of Cambridge and London. In thirty-three days they will meet their father in Everwhere. Only then will they discover who they truly are and what they can truly do. They must then fight to save their lives and the lives of those they love. Three will live, one will die.
Can you describe the book in the context of some other titles you've enjoyed?
The Sisters Grimm combines the sumptuous descriptive force of The Night Circus, the compellingly realised characters of The Time Traveller's Wife, the compulsive page-turning plotting of Stardust with, at its core, a love story to rival that of Daughter of Smoke & Bone. Oh, and with a dash of feminist female empowerment as displayed in The Power. (Immodest enough?)
Please tell us about the book's creation?
I conceived and wrote The Sisters Grimm in the nocturnal hours while my daughter was a baby. I discovered then that the early hours, especially between three and four o'clock in the morning, are appreciably different to any other time of day or night. Perhaps because most of the country is asleep, but it just feels that the veils between our world and any other are thinnest then. I spent a great deal of time wandering the streets of Cambridge – enchanting in daytime, especially magical at night – pushing a pram to rock my baby to sleep. I started to notice all the elaborate gates and I started to wonder whether they, if I push them open, might lead to another world. My mind (being on childhood things) was already steeped in Narnia and Wonderland, so I began to conceive of a world that could be just as easily accessed from our own. This time by stepping through particular gates rather than via wardrobes or rabbit holes. In style, I wanted to retain a lyrical, fairytale quality, a story steeped in fantasy but in reality too. Thus, it is set in our world, with a gateway into the other.
Where do you look for inspiration?
To anyone who creates excellence in my favourite fields. Angela Carter for writing The Bloody Chamber – a work of stunning beautiful and impossible tension. Nora Ephron and Richard Curtis for writing fantastic romantic comedies – by far the hardest film genre to do effectively. Neil Gaiman for writing Stardust – a small book of perfection or a book of small perfection. Hannah Gadsby for Nanette. Angela Merkel for her immigration policy. Virginia Woolf, and every other artist, who's managed to write works of genius while living with mental illness. Naturally, I could go on and on. But, more than anyone, I admire my mother who's had the most traumatic life of anyone I've ever met but has made more of it than most people who've suffered far less. I aspire to be only half as brave, loving and wise as she.
---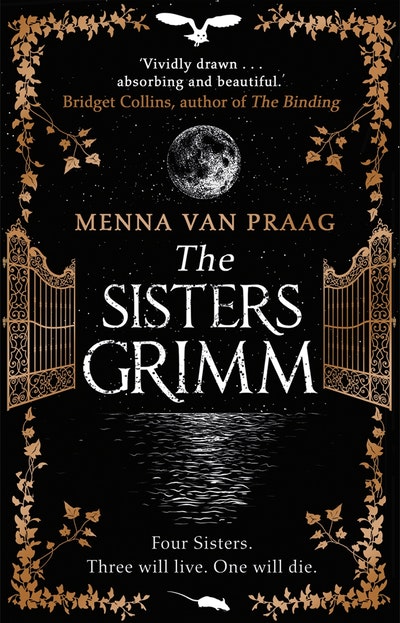 A tour de force of fairytale and imagination, The Sisters Grimm is a magical tale of life, death and sisterhood that brings to mind Beautiful Creatures, Daughter of Smoke and Bone and Stardust.
Buy now
Buy now
---