The much-loved Australian songwriter on books, inspiration and his poetry compilation Love Is Strong as Death.
What was it about Love Is Strong as Death that demanded it be written?
The idea for the book was suggested by Penguin Random House Publisher Nikki Christer. 'Would you be interested in picking some of your favourite poems for a book,' she asked me. I think she may have got a few more than she bargained for! The idea sounded like fun to me and the first stage was easy, simply listing all the poems I knew and loved. Not only that, I didn't have to write anything (except an introduction). The second and longer stage involved me trying to fill in some of the huge gaps in my knowledge of poetry. I spent most of last summer seeking out poems that were new to me, following leads, getting tips from friends and so on. So one reason for the book is personal – to discover more poems, to roll new words around my tongue. The other more general reason is to encourage others to enjoy poetry; to not be intimidated by it, to make poems lifetime companions in glad times and sad.
If you could be mentored by any writer, living or deceased, who would you choose?
I would have loved to have hung out with Shakespeare and his actor friends, helping put the plays on, seeing him write on demand and for specific actors, poring over old books and histories to pinch storylines and then pulling it all together with a looming deadline. With a bit of luck I might have scored the role of the gravedigger in Hamlet. But, alas, poor me, I don't have a time machine.
Name five books everyone should read in their lifetime (and why)?
I don't like saying to anyone 'You should read this book'. 'Should' is not the way to approach reading. People find their own way and sometimes one book leads you to another.
Top of my list is The Complete Works of Shakespeare and The King James Bible, both of which I haven't completed nor expect I ever will. They are bottomless, full of stories that warn and entertain; full of language that thrills and dives deep into the soul. Interestingly, they both involved much collaboration. The Bible has to be the best book ever written by committee – a group of bishops and churchmen worked on it under orders from King James 1 as the 16th century wheeled into the 17th. And Shakespeare, as previously mentioned, was writing for demanding, self-obsessed (I suspect) actors, probably cutting scenes and adding lines on the fly, trying to keep them and the public and Queen Elizabeth and her court happy.
There is more humour in Shakespeare than in the Bible. I love the way he puts comic and tragic scenes right next to each other. The porter scene in Macbeth is a great example. And if I had to choose one play, Macbeth would be it. It's extraordinary the way Macbeth wades into murder fully aware and horrified at what he's doing. Yet Lady Macbeth still steals the show.
Song of Solomon, a short book but a long poem, is my pick from the Bible. To me it's the mother of all love poetry, an ecstatic duet sung by King Solomon and the Rose of Sharon back and forth to each other.
The Odyssey next. Stories within stories. Long before Hollywood filmmakers began playing with narrative and time, Homer starts his story in the middle and continues to jump around chronologically as he recounts the journey of his deeply flawed hero. We think of The Odyssey as a long wandering book, but Odysseus actually gets home just over half way through the action. Then the tension builds and builds as he and his son plot their revenge on Penelope's suitors. The testing, suspicious scenes between Odysseus and Penelope leading up to their at-last tender reunion are the heart of the book for me. The goddess Athena holds back the dawn for them so they can have a long night in each other's arms making up for lost time. I love the way, too, that the only creature that recognises Odysseus immediately on his return is his old dog. It is such a realistic detail that reading it puts you right there thousands of years ago.
Ok, ok, how about a modern book or two, I hear you ask. I give you Elena Ferrante's Neapolitan Quartet, four books in one. It delves deep into the meaning of friendship; acknowledges its disappointments, betrayals and competitiveness while ultimately celebrating its strength and endurance. It's also an evocative portrait of a city – Naples – and the culture of a time. And the writing just rolls!
Finally, The Poetry of Yehuda Amichai, edited by Robert Alter. Amichai writes all kinds of poems – funny, tender, bitter, horrifying. Mixes high-flown language with colloquial, serious matters with jokes. His writing has the rhythm and variety of thinking. Chaotic, random, all mixed up. But it isn't stream of consciousness. Underneath it all is a great supple control. The book has a variety of translators, which is fitting for the fecundity of his work.
---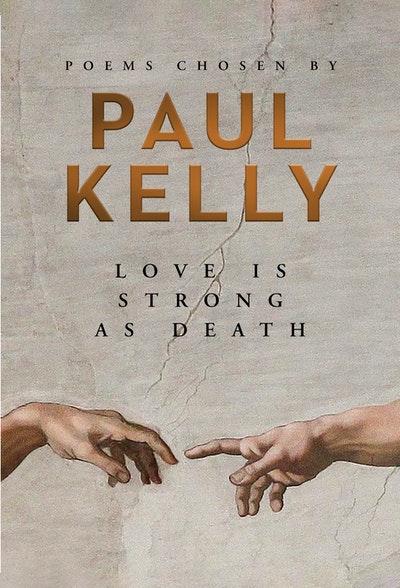 A collection of more than 300 of Paul Kelly's favourite poems.
Buy now
Buy now
---