Elevating the life of the victim above the shocking outcomes of crime.
In A Scandal in Bohemia, Gideon Haigh explodes the true crime genre with a murder story about life as well as death. Armed with only a single photograph and echoes of a young woman's voice, he reassembles the precarious life of the talented Mollie Dean – a true outsider, excluded by the very world that celebrated her in its art. Here he offers some insights into the book's creation and his attraction to true crime stories.
What do you find appealing about true crime?
A serious crime, and the response it occasions, offers an aperture through which to view the mores and morals of the society in which it was committed.
 
What compelled you to write this story?
Re-reading George Johnston's novel My Brother Jack, I was struck by the important sub-plot involving the painter Sam Burlington and his girlfriend Jessica Wray, whose murder pitches the chief protagonist into crisis. Knowing the novel to be loosely based on Johnston's life, I began wondering about the story's factual antecedents. Jessica was inspired by Mollie Dean; Burlington was based on Colin Colahan, her lover, whom Johnston befriended in London in the 1950s.
 
In 2018, why is Mollie Dean's story important to tell?
In true crime, we tend to concentrate on perpetrators, for their dark allure. I thought it would be interesting to turn the genre on its head, and explore the life of a victim. The irony is that Mollie Dean was deeply determined not to be a victim, of her gender, of her class, of her family, of her lovers. I was determined that that fight should not be in vain.
 
With limited resources to draw upon, can you talk about the dangers and delights, limitations and freedoms involved with colouring Mollie's life?
When you write about the events of long ago, beyond the scope of living memory, you know you have a trawl on your hands. It's simply a matter of being patient and imaginative.
 
To what lengths did you go to capture a sense of time and place: 1930s Melbourne?
One of the features of the area in Elwood in which the murder took place is that the streetscapes are remarkably intact. You can follow the route Mollie took on her last walk; you can stand in the laneway on the spot she was killed. It's not actually difficult to imagine the crime. Two interesting record series aided my understanding of Mollie's world: the police inbound correspondence for her area and the school building files for where she worked. Mollie came from worlds of scarcity and poverty, which must have accentuated the lustre of the artistic salons to which she gained entre.
 
How has researching the book affected your perception of Melbourne?
I have to confess I'd known very little about the city's cultural cut and thrust in the 1920s – how worldly and vibrant were its salons, how profound was the overlap between art, music and literature. It was a small 'scene' but exciting, even militant.
 
Can you tell us about the photograph?
The same photograph of Mollie was published in every newspaper. It was unremarkable, inscrutable. But the painting of Mollie executed by Colahan the night before she died, which features on the cover, is amazing. I saw 'Sleep', which has never been hung in public, by generous leave of its owner, a private collector. It blew me away. So universal, so intimate.
 
What were some of the greatest challenges you encountered writing this book, and how did you overcome them?
The descendants of Mollie's brother Ralph, unfortunately, declined to assist me in my researches, and adamantly asserted their right to privacy. I have always been happy to respect the privacy of the living, but do not feel similarly about the dead.
 
Can you tell us about an author or book that led you to, or changed your perception of, crime writing?
I read Robert Kolker's Lost Girls in preparation for writing A Scandal in Bohemia, because its mystery is also unsolved. I was impressed by the empathic way he wrote about victims, restoring their humanity by taking their lives seriously.
 
What crime book would you give to others, and why?
Gordon Burn's Happy Like Murderers. Simply terrifying.
 
What's a memorable book you read (or were read) as a kid?
I loved the Sherlock Holmes stories. They are where my title derives from: 'A Scandal in Bohemia' was the name of Conan Doyle's first Holmes short story.
---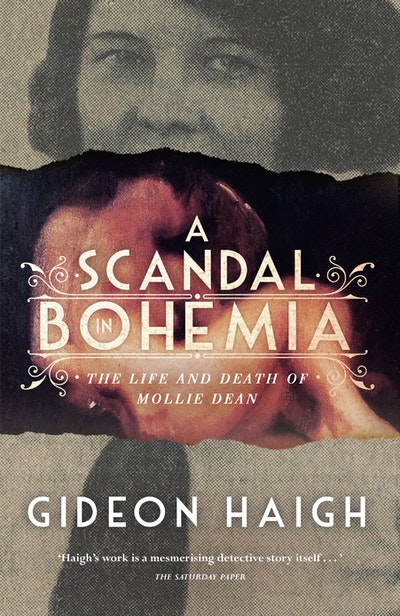 An unsolved murder takes one of Australia's foremost writers of non-fiction into the 1930s Bohemian demi-monde, exploring the fate of a talented young woman trying to make her way in that artistic, sexualised, 'liberated' world.
Buy now
Buy now
---