The Wheeler Centre's Next Chapter writers' scheme is changing the landscape of Australian publishing, providing a foot in the door for writers who have historically been overlooked by the industry. In this panel discussion, published previous recipients and current participants in The Next Chapter – including Jumaana Abdu, Luke Patterson, Josie/Jocelyn Deane and Ennis Cehic – explore the ways contemporary emerging writers are making the most of opportunities to break down barriers and challenge the conventions of traditional Australian publishing. Hosted by Fiona Wright.

Presented with the Wheeler Centre. This event is Auslan interpreted.
Jumaana Abdu (Australian)
Jumaana Abdu is a Sydney-raised novelist of Egyptian-Palestinian heritage, entering her final year in a Doctor of Medicine at UNSW. This year, she will be participating in The Wheeler Centre's Next Chapter literary mentorship to guide the completion of her debut novel, and will be undertaking a writer's residency at Varuna House. Her work has been published in Overland Journal and The Sydney Morning Herald.
Luke Patterson (Australian)
Luke Patterson is a Gamilaroi poet, folklorist and musician living on Gadigal lands. Grounded in extensive work with Aboriginal and other community-based organisations across Australia, his creative pursuits focus on the ways bioregional identities and consciousness are expressed through localised and vernacular forms. Luke is currently a Juncture fellow with Sydney Review of Books and a member of the 2022 Emerging Writers Festival advisory board. He has written poetry for in journals including Cordite, Plumwood Mountain, Rabbit and Running Dog.
Josie/Jocelyn Deane (Australian)
Josie/Jocelyn Dean is a programmer, freelance editor and translator livng on unceded Wurundjeri land in Naarm. Their work has appeared in Rabbit Journal, Overland, The Suburban Review and Going Down Swinging, among others. They were one of the recipients of the Queensland Poetry Festival Ekphrasis award for 2020, as well as the Ultimo Poetry Prize and the Harri Jones memorial prize in 2021. They are a genderqueer femme.
Ennis Cehic (Australian)
Ennis Cehic focuses on ideas of displacement, creativity and existentialism. His writing has been published in a variety of publications including Meanjin, Assemble Papers and Going Down Swinging. He is the author of New Metonyms, a literary photography book about his homeland Bosnia & Herzegovina, released with photographer Shantanu Starick in 2020. In 2018, Ennis was selected as an inaugural recipient of the Wheeler Centre's Next Chapter writers' scheme. Sadvertising is his debut work of fiction.
Fiona Wright (Australian)
Fiona Wright is a writer, editor and critic from Sydney. Her book of essays Small Acts of Disappearance won the 2016 Kibble Award and the Queensland Literary Award for non-fiction, and her new collection, The World Was Whole was longlisted for the 2019 Stella Prize. Her poetry collections include Knuckled and Domestic Interior.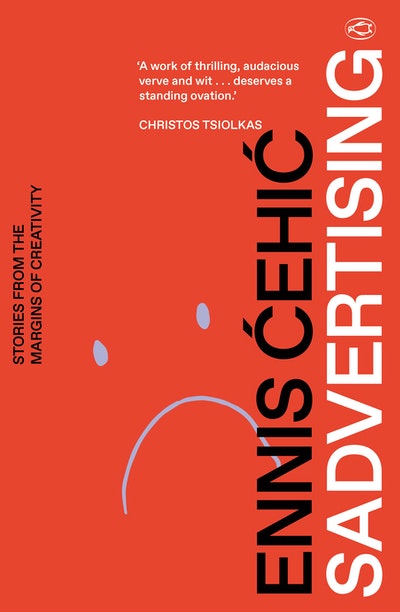 Sadvertising
An electrifying collection of stories from the febrile imagination of a young writer who traverses culture, genre and form.
Read more