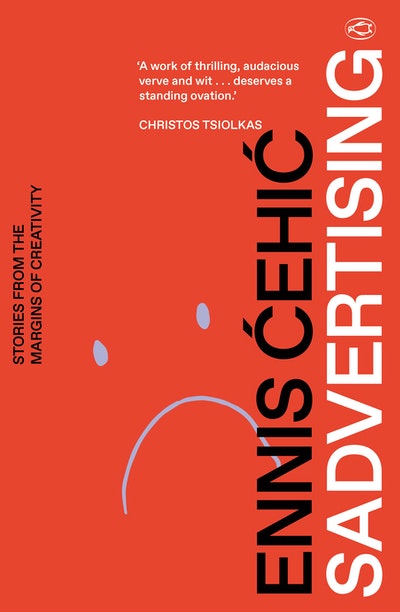 Published:

1 March 2022

ISBN:

9781761042430

Imprint:

Vintage Australia

Format:

Trade Paperback

Pages:

304

RRP:

$32.99
Sadvertising
---
---
---
An electrifying collection of stories from the febrile imagination of a young writer who traverses culture, genre and form.
'This book marks the deeply unusual arrival of a singular new talent.' Mohsin Hamid
'deserves a standing ovation' Christos Tsiolkas
'powerful, inventive and self-assured' Australian Book Review
'Ennis Cehic has done something remarkable.' The Saturday Paper
A man grows tired of his open-plan office and builds a fort made of stationery. A woman's euphoria at finally achieving Desktop Zero is quickly replaced with despair. A group of copywriters dream of being poets, and a disillusioned sales executive overthinks his think piece.
In the mind-bendingly upside-down world of Sadvertising, iPhones have feelings, brands come to life, creative directors disappear into parallel universes and lowly freelancers become immortal. It's a world where gods, ghosts and muses stalk the corridors of bland and placeless offices, and the wondrous exists alongside the mundane.
Short, punchy and direct, Ennis Cehic's satirical fables are box-fresh and shot through with pitch-black humour, existential dread and late capitalist yearning for meaning. They grapple with love and loneliness, art and commerce, dream and reality, and reflect the absurdity of the modern condition.
Sadvertising is a surreal, subversive and utterly contemporary literary debut from an unforgettable new voice.
Published:

1 March 2022

ISBN:

9781761042430

Imprint:

Vintage Australia

Format:

Trade Paperback

Pages:

304

RRP:

$32.99
Funny, smart, crazy, audacious, and above all humane, this book marks the deeply unusual arrival of a singular new talent.

Mohsin Hamid
Sadvertising is a tonic, a work of thrilling, audacious verve and wit, capturing the absurdity of the hyperconnected world in which we live. Cehic's intelligence and humour are singular, and his playful love for the possibilities of language is exhilarating. Often in reading his book I wanted to stand up and burst into spontaneous applause. And why not? Sadvertising deserves a standing ovation.

Christos Tsiolkas
Part-satire, part-lament for all that humanity has already lost to the digital netherworld, these are shimmering, bittersweet fables of the age of advertising and ego-curation in which we live. Reading this book might open up a portal to the multiverse - as actually happens to one of the unforgettable characters - but I promise it will be worth it, even if you never find your way back home.

Ceridwen Dovey
An unsettling, bad-arse book with a big heart. Clever, cool, funny and very, very strange. Ennis Cehic is a remarkable writer with a bright future.

Omar Musa
An incredible debut full of corporate dread, humour and existential yearning. Wild in scope, and so impressive in execution.

Oliver Mol
George Saunders meets Bohumil Hrabl meets Ben Marcus meets your creative account manager. Pointed and wry, Sadvertising layers the mundane with the frankly, brazenly bizarre, and in doing so makes strange, and particular, the deadening spaces in which they so often meet: the office, the screen, the motivational poster. Ennis Cehic does it all with a gentle kind of knowing. I loved this collection.

Ellena Savage
Ennis Cehic has done something remarkable... Sadvertising feels complete, well rounded and carefully planned and structured. The experience of reading this collection is like being completely immersed in a mind as it interrogates creativity, career and a person's place in the world. It wanders off on delightful tangents – telling stories about related facts or drifting into the nightmare equivalent of daydreams. Sadvertising will make you laugh, it will make you pause – and maybe it will make you quit your job.

The Saturday Paper
With scathing wit and black humour, Sadvertising offers hope and ennui in equal measure, and challenges readers to interrogate how, and what, they consume.

Books + Publishing
From brief fable-like glimpses into the amusing contradictions of workplace culture to more ambitious tales of technological futures or magical realist unrealities, each story reflects the author's relentless creativity, leaping from idea to idea, never lingering anywhere longer than necessary.

Readings Monthly
Powerful, inventive, and self-assured... Ennis Cehic's Sadvertising is an ingeniously self-reflexive and neo-surrealist collection of very short stories and micro-literature. In taut and often biting narratives, Cehic brings unexpected perspectives to the idea of advertising as powerfully manipulative... asks readers to step into richly imagined worlds where what we may believe we know is challenged, reconstructed, or subverted, sometimes strangely, sometimes in deeply salutary ways.

Australian Book Review
Cehic was born in Bosnia and came to Australia, via Germany, in the mid-1990s, and in among the satire and the fantasies are glimpses of a harder reality. But then he also mocks writers who offer their own identity as, well, as a marketing ploy, not to mention readers who like to feast on tragedy ("War is sweet to those who haven't experienced it."). The topic is raised but he wants us to know he won't be exploiting it. Some things aren't for sale.

Sydney Morning Herald
Some of these short stories rank among the most inventive I have come across and the meta-fictive way that Cehic subverts the reader's expectation of narrative voice is genuinely exciting to read. His prose is also excellent, polished and restrained... He is an exciting voice.

Arts Hub
Sardonic, sharp and witty, Ennis Cehic's Sadvertising is an electrifying examination of what it means to be alive in the modern age.

Happy Mag
Darkly humorous and often enjoyably strange.

The West Australian
Cehic establishes each character in shorthand, in a rigorously maintained comic-serious voice, before sending them spiralling into an existential crisis or a soft sci-fi/fabulist/horror scenario. Vonnegut, Ballard and, notably, Barthelme—who makes a cameo as Mr A / Ambrose—are his stylistic predecessors.

Kill Your Darlings
These darkly comic vignettes double as fables for our current age of splintered attention spans and pervasive corporate culture... Cehic proves himself a natural at shorthand character work.

The Big Issue
This satire of capitalism and marketing is so close to the bone it's tough to know where the truth stops. These are caustic insider pieces from the frontlines of social media, branding and offices... they read like jokes but come from knowledge, not knowingness.

The Sun-Herald
It's tempting to reach for "satire" when describing a book like Sadvertising, but it doesn't quite fit the bill. The stories that Cehic presents here are absurdist entertainments more than they are withering calls to arms. And while the stories from adland tend to read like a jeremiad about the debasement of the business, there are moments of wry observation and profundity elsewhere.

The Canberra Times
Sadvertising is an utterly unique reading experience. Whether you work in advertising or not, this is an astute reflection of the ways consumerism, capitalism and the entire notion of branding are at crosshairs - and collaboration - with art and creativity. Superbly blending technological surrealism with mythical elements, this is as slick and smart as they come.

Aniko Press