Are you a creative person? Ever feel some nervousness or frustration about your career? This workshop and Q&A with PR expert Bec Brown will help arm you so you can reach your creative and earning potential and find career fulfilment, minus the burn out.
Bec's new book You've Got This is the essential career handbook for creative women! It gets candid about the realities of today's working world and guarantees a more rewarding path to success – to score your dream job or start a business doing something you love, while earning a great income and enjoying the journey along the way.
Now more than ever due to recent world events, many of us are assessing our values and motivations. And thankfully, there's a way to take charge.
Offering smart, honest, 100% proven tips, valuable anecdotes and easy-to-action advice from You've Got This, in Bec's hour and a half masterclass and Q&A session you're going to learn:
How to stand out from the crowd - why your personal professional brand and reputation is so important and what knowledge and skills you can learn and develop to best manage it.
How PR works and what it can do for you, your career, or your business - in normal times, if you're changing careers, or in a crisis.
How to build valuable relationships – from networking, working well with your boss or client, or dealing with office politics.
You'll even learn some secrets on how to best work with the media to promote your company or business.
This workshop will take place on Zoom. The Zoom meeting details form part of your ticket, emailed to you after registration.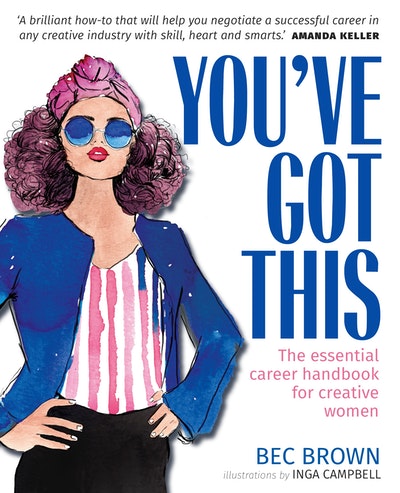 You've Got This
Build your dream career in any creative industry by following the practical, achievable and 100 per cent proven steps outlined in this book.
Read more