Enter through the doors of Estelle in Northcote and be greeted with a glass of wine, enjoy tastes from his delightful new cook book, Marriage of Flavours and before too long, be seated to enjoy a two course meal and a talk from the chef himself. Following his early training days, Scott Pickett's respect for the classics and understanding of seasonality drew him to Europe, where he honed his skills in some of the most rigorous Michelin-starred kitchens of London in the late '90s. Today, Scott's highly acclaimed restaurants include Estelle Bistro, Saint Crispin, Pickett's Deli & Rotisserie and Matilda. Marriage of Flavours is his second book.
$125 per person includes a glass of wine, the meal and a signed copy of Marriage of Flavours.
$210 per couple includes a glass of wine each, two meals and one copy of Marriage of Flavours
Tuesday 6 August, 6.30pm- 9pm
243 High Street, Northcote.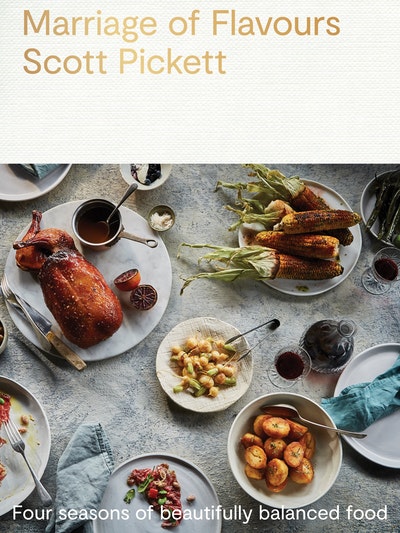 Marriage of Flavours
Scott Pickett, a chef renowned for his mastery of incredible flavour combinations, shares 80 recipes for beautifully balanced, flavour-driven dishes that celebrate Australian produce through the seasons – and the secrets that make them so successful.
Read more