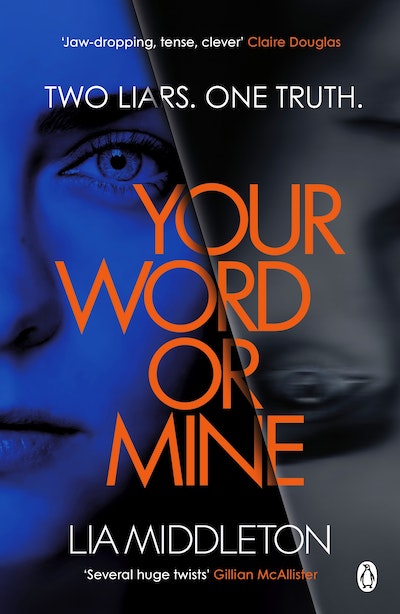 Published:

29 November 2022

ISBN:

9781405948234

Imprint:

Michael Joseph

Format:

Paperback

Pages:

400

RRP:

$22.99
Your Word Or Mine
---
---
---
A tense, gripping and twisty new psychological drama for fans of Anatomy of a Scandal and Apple Tree Yard
When fifteen-year-old Anabelle King was raped, she reported it immediately. But corrupted evidence meant the jury let her attacker go.
Eighteen years later, Anabelle is Ava, a barrister who always follows the rules. But that changes when she reads a familiar name in a case file: Michael Osborne. This time, Michael is the alleged victim, and in the dock is a young girl: Lily Hawthorne, who pleads guilty of GBH without hesitation.
Ava is sure that Lily's plea is false. She knows this man is not innocent. But how much will she have to risk to uncover the truth?
Published:

29 November 2022

ISBN:

9781405948234

Imprint:

Michael Joseph

Format:

Paperback

Pages:

400

RRP:

$22.99
Praise for Your Word Or Mine
WHAT THEY'RE SAYING ABOUT LIA MIDDLETON
When They Find Her opens with an unthinkable wallop to the heart, and takes off racing from there through a perfectly crafted, tightly written, deeply emotional story that taps into the most uncomfortable fears of motherhood and marriage. A stand-out psychological thriller with heart.

Ashley Audrain, <i>Sunday Times</i> bestselling author of <The Push</i>
Superb debut thriller - assured, elegant and utterly gripping. EXCELLENT

Will Dean, author of <i>The Last Thing to Burn</i>
Brilliantly written ... I felt every single emotion and was immediately swept up into the story. I'll be recommending it to everyone I know

Sarah Pearse, author of <i>The Sanatorium</i>
Uncomfortable and compelling - a story which is truly the stuff of nightmares. Couldn't put it down

Catherine Cooper, <i>Sunday Times</i> bestselling author of <i>The Chalet</i>
A twisty tale of parental love and a lie with terrible consequences. Dark, intense and so compelling that I read it in a single sitting

Allie Reynolds, author of <i>Shiver</i>
A brilliant concept that pulled me straight into the story and kept me hooked to the end

Nikki Smith, author of <i>All in Her Head</i>
An unnerving and gripping thriller in which a split-second choice plunges the protagonist Naomi into a web of terror and lies. Deftly written and chillingly plausible ... a bold, compelling and clever debut

Philippa East, author of <i>Little White Lies</i>
A tense and claustrophobic rollercoaster

Nina Manning, author of <i>The Daughter in Law</i>
An unforgettable debut with a truly chilling opening chapter that hooks you in and doesn't let go. Clever, compelling, pacy and powerful

Diane Jeffrey, author of <i>The Silent Friend</i>
Had me hooked from the first page ... a gripping and twisty story of grief, fear and the fierce bond of motherhood

Claire Allan, author of <i>Her Name Was Rose</i>
A brave and suspenseful debut that had me turning pages deep into the early hours. Truly superb

Katie Lowe, author of <i>The Furies</i>
It's been a long time since I've stayed up late to finish a book. When They Find Her is not only utterly gripping but also a sensitive and moving portrayal of parental love. Middleton's astute writing made me feel as though I was there was Naomi in her every moment of tension

Neema Shah, author of <i>Kololo Hill</i>
Utterly gripping . . . I could not put it down

Fíona Scarlett, author of <i>Boys Don't Cry</i>
Nail-biting ... some truly fabulous unexpected turns make this an altogether gripping and provocative read

Rebecca Kelly, author of <i>Monstrous Souls</i>
Claustrophobic, intense, unsettling and drags you into the story ... Unbelievably exciting

Roxie Cooper, author of <i>The Day We Met</i>
Nightmarish, dark and twisty, I galloped to end. A domestic psychological drama with polish

Sophie Draper, author of <i>Cuckoo</i>