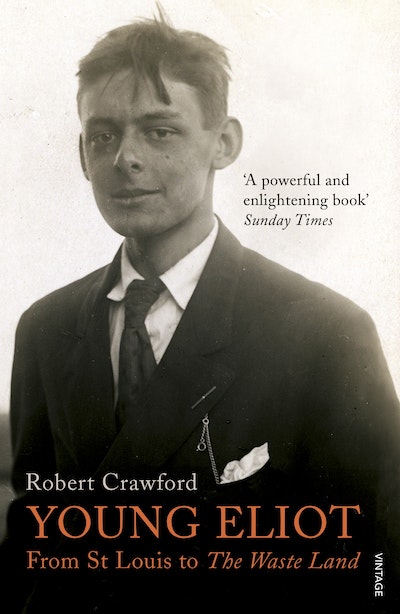 Published:

29 January 2015

ISBN:

9781473523203

Imprint:

Vintage Digital

Format:

EBook

Pages:

512
Young Eliot
From St Louis to The Waste Land
---
---
---
A biography exploring the early years of the twentieth century's greatest poet.
Published simultaneously in Britain and America to mark the fiftieth anniversary of the death of T. S. Eliot, this major biography traces the life of the twentieth century's most important poet from his childhood in the ragtime city of St Louis right up to the publication of his most famous poem, The Waste Land. Meticulously detailed and incisively written, Young Eliot portrays a brilliant, shy and wounded American who defied his parents' wishes and committed himself to life as an immigrant in England, authoring work astonishing in its scope and hurt.
Quoting extensively from poetry and prose as well as drawing on new interviews, archives, and previously undisclosed memoirs, Robert Crawford shows how Eliot's background in Missouri, Massachusetts and Paris made him a lightning conductor for modernity. Most impressively, Young Eliot shows how deeply personal were the experiences underlying masterpieces from 'The Love Song of J. Alfred Prufrock' to The Waste Land. T. S. Eliot wanted no biography written, but this book reveals him in all his vulnerable complexity as student and lover, stink-bomber, banker and philosopher, but most of all as an epoch-shaping poet struggling to make art among personal disasters.
Published:

29 January 2015

ISBN:

9781473523203

Imprint:

Vintage Digital

Format:

EBook

Pages:

512
Young Eliot marks both a milestone and a turning point... [It] is judicious, sympathetic, meticulous.... The story it tells of a great poet's early life is enthralling.

Robert McCrum, Observer
This is an exemplary book… I look forward to the second volume eagerly.

Stuart Kelly, Scotsman
A masterful biography of the canonical modernist... Drawing on sources not available to previous biographers, the author fashions an authoritative, nuanced portrait... Although Crawford modestly claims that his biography is neither "official" nor definitive, it is unlikely to be surpassed.

Kirkus
Crawford's superb biography, of which this is the first of two volumes, must now be regarded as the standard work. It does not diminish or tarnish Eliot's reputation. On the contrary, it makes one want to return to the poems and read them again and again.

Alan Taylor, Herald
Crawford's case is sensitive and compelling, and his account – especially of Eliot's childhood and student years – is more richly detailed than any previous biographer's…. A powerful and enlightening book.

John Carey, Sunday Times
[An] excellent account of the poet as a young man.

Philip Collins, The Times
Beautifully told.

Robert Sutcliffe, Huddersfield Daily Examiner
[Crawford] is a reliable and succinctly guide to the many intellectual influences that shaped [Eliot].

Seamus Perry, Literary Review
This is very much what a literary biography should be. It is likely to be a while before the next volume…but it will be worth the wait if it does what this first book does: to offer a credible and three-dimensional portrait of this most elusive figure.

Rowan Williams, New Statesman
Crawford has produced a nuanced portrait of Eliot's greatness.

Lyndall Gordon, 4 stars, Sunday Telegraph
This life of the young TS Eliot up to the Waste Land is more richly detailed than any before.

Sunday Times
[Crawford's] intention is never reductive, always to help us understand Eliot's triumph in transmuting his private suffering into "language that acquired almost infinite reach".

David Sexton, Evening Standard
The first biography permitted to quote extensively from Eliot's language, Young Eliot finally brings the poet's life-defining gift into the story.

Sarah Churchwell, Guardian
Robert Crawford demonstrates wonderfully well how every experience of Eliot's life…went into a melting pot from which his poetry emerged.

Maggie Fergusson, Intelligent Life
Mr Crawford presents Eliot as he finds him: a nervous, unhappy individual who was also…a brilliant poet. Few writers offer such a richly complex subject matter. Even fewer biographies offer such a fair assessment of the man.

The Economist
It allows us to see more clearly than ever the circumstances under which this revolutionary work was created.

Sameer Rahim, Prospect
Outstandingly perceptive and persuasive.

Geoffrey Elborn, Tablet
Intimate and comprehensive biography.

Good Book Guide
Earlier biographies have somewhat scanted Eliot's American childhood and youth, which is one reason why this new book is so valuable. It is magisterial in its minutiae.

Michael Dirda, Washington Post
This comprehensive study of T.S. Eliot's first thirty-four years humanizes one of the twentieth century's most learned and inscrutable poets.

New Yorker
Where so often we go to Eliot's poems for a glimpse at humanity, Crawford helps us find something human, a man who dares to "[d]isturb the universe".

Michael Andor Brodeur, Boston Globe Sunday
It must be the most detailed study [of Eliot] so far, meticulous in its documentation and eloquent in its execution.

Peter Abbs, Resurgence & Ecologist
Robert Crawford's excellent biography […] brings a vastly expanded sense of the poet's life and personality.

Sean O'Brien, Independent
· Robert Crawford tracks the poet's young life in enthralling, exhaustive detail and nearly always relates his discoveries to the poetry.

Michael Dirda, Washington Post Sunday
A shrewd, sensible, illuminating account that presents intriguing material from a number of fresh sources.

Mark Ford, Times Literary Supplement
A learned, important book, with exhilarating narrative scope.

Claire Lowdon, Sunday Times
More richly detailed than any previous biographer's… A powerful and enlightening book.

John Carey, The Sunday Times
Never has the physical and familial background of Eliot's childhood in St Louis, Missouri, been so well explored… Crawford's clear and lively narrative offers a warm and vital account of the writer's extraordinary metamorphosis from cosseted youngest child in mid-America to revolutionary poet and unhappy lover in London. No devotee of his work will want to miss this book – and, whenever it comes, its sequel.

Courtney McGrail, Irish Catholic