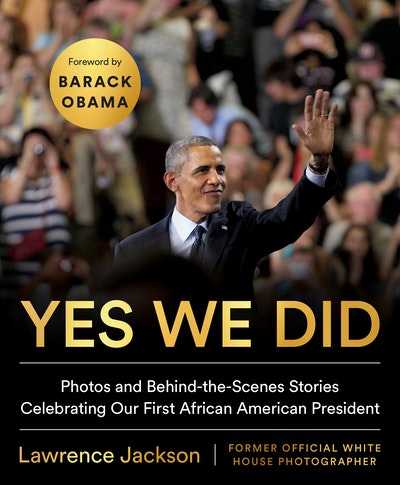 Published:

22 October 2019

ISBN:

9780525541011

Imprint:

Tarcher

Format:

Hardback

Pages:

192

RRP:

$39.99
Yes We Did
Photos and Behind-the-Scenes Stories Celebrating Our First African American President
---
---
Intimate photos and reflections from the only White House photographer of color during the Obama years--including never-before-seen images of the President and First Lady Michelle Obama, and contributions from everyday citizens and notable Americans
When Lawrence Jackson took the job as White House photographer in early 2009, he knew he would have a front-row seat to history. What he didn't know is how personally moved and inspired he would feel working in the White House every day. As an African American photographer, he had always used the camera to create distance between himself and the world. Suddenly that distance fell away, and he found himself in the room where history was unfolding. And for the first time, he felt his own hopes, dreams, and experiences put into words--by the President of the United States.
As a person of color himself, Jackson photographed the Presidency through a unique lens. He keyed in to the details, the quirks, and the private moments; the undefinable "cool factor" that accompanied Obama wherever he went; and the weight and significance of being the first.
Yes We Did is filled with intimate photographs and reflections, as well as first-person recollections from President Obama, everyday citizens, and notable personalities. The book is a celebration of the most inclusive and representative White House in history--where in between the momentous and pivotal decisions, the President and First Lady opened the doors of the People's House to schoolkids, athletes, senior citizens, hip-hop artists, and more.
For anyone who misses the humanity and grace of the Obama White House, this warm and inspiring book offers an affirming, proud, and intimate lens on our history.
Published:

22 October 2019

ISBN:

9780525541011

Imprint:

Tarcher

Format:

Hardback

Pages:

192

RRP:

$39.99