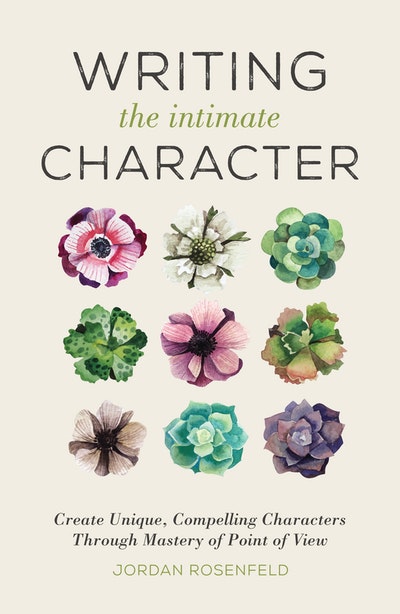 Published:

4 October 2016

ISBN:

9781440346026

Imprint:

Penguin

Format:

Paperback

Pages:

240

RRP:

$29.99
Writing the Intimate Character
Create Unique, Compelling Characters Through Mastery of Point of View
---
---
Craft Vibrant Characters and an Intimate Reading Experience
The key to excellent fiction lies in its characters: the unforgettable protagonists, antagonists, and secondary characters who populate the world of your story. Understanding and effectively using point of view allows you to write a powerful narrative that draws readers in and engages them with characters in a meaningful way. Through a blend of practical instruction, useful examples, and helpful exercises, Writing the Intimate Character shows you how to create the experience of living through a character rather than just reading about one.
Inside, you'll learn:
   • The functions and benefits of first-person, third-person intimate, omniscient, and second-person points of view.
   • How to apply character cues--specific behaviors, sensory perceptions, dialogue, and visual imagery--to develop a realistic protagonist and secondary cast.
   • The surface and subset feelings that get to the root of your character's emotions.
   • How different viewpoints affect the story you want to tell.
Writing the Intimate Character helps you craft a novel in which readers can experience your characters' senses, dive inside their minds, and truly feel their emotions.
"Writing the Intimate Character, the latest engaging guide by Jordan Rosenfeld, is a rich resource we'll all be learning from for the rest of our lives. 'Does the term point of view seem too dull and dry?' she asks. 'Try intimacy instead.' And then she shows us how, with diverse examples and wise observation. Now that I have Jordan's take on how to create a character from the inside out, I'm eager to get to it. You, too, will find this book that inspiring." --Rebecca Lawton, author of Sacrament: Homage to a River and other books
"Writing the Intimate Character provides insights, examples, and exercises that will be useful not only to those who are new to writing fiction but to those, like myself, who are coming back to it after a break. Jordan Rosenfeld's explanation of how narrative voice works with point of view and other literary elements to create characters that readers care deeply about is clear and revelatory. The book can be worked through methodically or dipped into as needed. It's a useful tool for getting the gears of imagination working or for jump-starting and fine-tuning a work in process." --Zoe Zolbrod, author of the novel Currency and the memoir The Telling
"Jordan Rosenfeld has a keen insight into how to construct characters who are truly lived-in. With intelligence and wit, she walks you through every element of powerful characterization, from selecting your POV to demonstrating character growth throughout your story. Whether you're new to fiction or a more experienced writer, put your trust in Jordan Rosenfeld; she'll help you tell a better story." --Laura Bogart, freelance writer and novelist
Published:

4 October 2016

ISBN:

9781440346026

Imprint:

Penguin

Format:

Paperback

Pages:

240

RRP:

$29.99